Home - Search - Browse - Alphabetic Index: 0- 1- 2- 3- 4- 5- 6- 7- 8- 9
A- B- C- D- E- F- G- H- I- J- K- L- M- N- O- P- Q- R- S- T- U- V- W- X- Y- Z
---
Tsiolkovskiy launch vehicle
---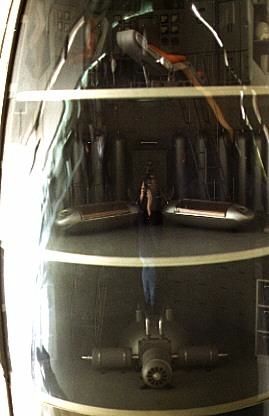 Tsiolkovsky ship
Detail of crew levels of Tsiolkovsky's manned rocket design
Credit: © Mark Wade
Russian orbital launch vehicle. Tsiolkovskiy was the first to propose the use of liquid hydrogen and oxygen to propel a rocket, and calculated its performance using the crucial rocket equation V = c ln(Mo/ Me).
AKA: Tsiolkovskiy. Status: Design 1903.
Tsiolkovskiy described his rocket in 1903 as follows:
Visualize . . . an elongated metal chamber . . . designed to protect not only the various physical instruments but also a human pilot . . . . The chamber is partly occupied by a large store of substances which, on being mixed, immediately form an explosive mass. This mixture, on exploding in a controlled and fairly uniform manner at a chosen point, flows in the form of hot gases through tubes with flared ends, shaped like a cornucopia or a trumpet. These tubes are arranged lengthwise along the walls of the chamber. At the narrow end of the tube the explosives are mixed: this is where the dense, burning gases are obtained. After undergoing intensive rarefaction and cooling, the gases explode outward into space at a tremendous relative velocity at the other, flared end of the tube. Clearly, under definite conditions , such a projectile will ascend like a rocket . . . . The two liquid gases are separated by a partition. The place where the gases are mixed and exploded is shown, as is the flared outlet for the intensely rarefied and cooled vapors. The tube is surrounded by a jacket with a rapidly circulating liquid metal (mercury). The control surfaces serving to steer the rocket are also visible.
---
---
Family
:
Early Rocketry
,
orbital launch vehicle
.
Country
:
Russia
.
---
Photo Gallery
---
---
Tsiolkovsky rocket
Tsiolkovsky's manned rocket design
Credit: © Mark Wade
---
---
Tsiolkovsky rocket
Tsiolkovsky's manned rocket design
Credit: © Mark Wade
---
---
Tsiolkovsky sketch
Tsiolkovsky sketch of rocket
Credit: © Mark Wade
---
---
Tsiolkovsky sketch
Tsiolkovsky sketch of rocket
Credit: © Mark Wade
---
---
---
Back to top of page
---
Home - Search - Browse - Alphabetic Index: 0- 1- 2- 3- 4- 5- 6- 7- 8- 9
A- B- C- D- E- F- G- H- I- J- K- L- M- N- O- P- Q- R- S- T- U- V- W- X- Y- Z
---
© 1997-2019 Mark Wade - Contact
© / Conditions for Use
---