Home - Search - Browse - Alphabetic Index: 0- 1- 2- 3- 4- 5- 6- 7- 8- 9
A- B- C- D- E- F- G- H- I- J- K- L- M- N- O- P- Q- R- S- T- U- V- W- X- Y- Z
---
Tsien Spaceplane 1978
---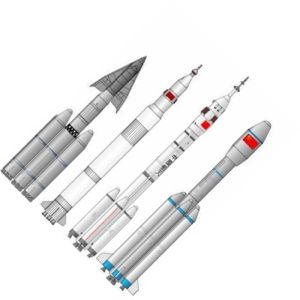 Chinese Manned LVs
Chinese Launch Vehicles for Manned Projects. From left: Tsien Spaceplane Launcher, 1978; Project 921 Launch Vehicle, 1992; CZ-2F, 1999; CZ-2E(A), 2000. Only the last two were put into full scale development.
Credit: © Mark Wade
Chinese manned spaceplane. Study late 1970s. Tsien Hsue-shen's manned spacecraft design proposed in the late 1970's was a winged spaceplane, launched by a CZ-2 core booster with two large strap-on boosters.
Status: Study 1970. Gross mass: 7,800 kg (17,100 lb). Height: 13.00 m (42.00 ft). Span: 6.00 m (19.60 ft).
It so strongly resembled the cancelled US Dynasoar of 15 years earlier that US intelligence analysts wondered if it wasn't based on declassified Dynasoar technical information.
It would seem that this was to be preceded by a simpler manned capsule. No Chinese source has documented this design - however its existence was confirmed by US intelligence sources.
First public announcement of the manned program came in February, 1978. By November the head of the Chinese Space Agency, Jen Hsin-Min, confirmed that China was working on a manned space capsule and a "Skylab" space station.
In January, 1980 the Chinese press reported a visit with the Chinese astronaut trainees at the Chinese manned spaceflight training center. Photographs appeared of the astronauts in training. Pressure suited astronauts were shown in pressure chamber tests. Other trainees were shown at the controls of a space shuttle-like spaceplane cockpit.
Suddenly, in December, 1980, Wang Zhuanshan, the Secretary General of the New China Space Research Society and Chief Engineer of the Space Centre of the Chinese Academy of Sciences, announced that Chinese manned flight was being postponed because of its cost. A Chinese manned spaceplane would not be considered again until the 1990's, when a Dynasoar-like orbiter was planned for Phase 3 of Project 921, to be operational in 2020.
Crew Size: 2.
---
---
Family
:
Chinese Manned Spacecraft
,
Spaceplane
.
Country
:
China
.
Bibliography
:
425
.
---
Photo Gallery
---
---
Chinese Shuttle
Photo published in 1980 of Chinese astronauts training in a shuttle-type cockpit.
---
---
921-3 Orbiter
This wind tunnel model of a Dynasoar-like spaceplane may represent the orbiter stage of the 921-3 reusable spacecraft.
Credit: © Heritage Foundation
---
---
---
Back to top of page
---
Home - Search - Browse - Alphabetic Index: 0- 1- 2- 3- 4- 5- 6- 7- 8- 9
A- B- C- D- E- F- G- H- I- J- K- L- M- N- O- P- Q- R- S- T- U- V- W- X- Y- Z
---
© 1997-2019 Mark Wade - Contact
© / Conditions for Use
---