Home - Search - Browse - Alphabetic Index: 0- 1- 2- 3- 4- 5- 6- 7- 8- 9
A- B- C- D- E- F- G- H- I- J- K- L- M- N- O- P- Q- R- S- T- U- V- W- X- Y- Z
---
Tomato Worm Suit
---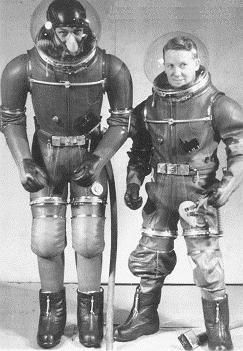 Tomato Worm Suits
Credit: USAF
American pressure suit, tested 1940-43. Project MX-117 full "tomato worm" pressure suits were developed during World War II.
Status: tested 1940.
As England continued its work with derivatives of the Ridge-Haldane-Davis suit, in the United States the US Army finally recognized, albeit somewhat belatedly, the potential importance of a fully pressurized protective garment for military aviators and started a classified research program in 1939, designated Project MX-117. Soon several US companies had been drawn into pressure suit developmental investigations; these included the B F Goodrich Company (Russell Colley's engineering group), Bell Aircraft Company, the Goodyear Rubber Company, the US Rubber Company, and the National Carbon Company. From 1940 through 1943 a number of original designs were produced. Generally speaking, they uniformly featured transparent dome-like plastic helmets and airtight rubberized fabric garments which markedly restricted mobility and range of motion when fully pressurized. A major breakthrough came in the development of segmented, bellows-like joints at the knees, hips and elbows, which improved use of the limbs. This striking visual aspect of the early 40s suits resulted in their being termed "Tomato worm suits," after the distinctive convolutions of the Tomato Hornworm's body which had inspired the idea.
---
---
Family
:
Space Suits
.
Country
:
USA
.
Agency
:
Goodrich
.
Bibliography
:
490
.
---
---
Back to top of page
---
Home - Search - Browse - Alphabetic Index: 0- 1- 2- 3- 4- 5- 6- 7- 8- 9
A- B- C- D- E- F- G- H- I- J- K- L- M- N- O- P- Q- R- S- T- U- V- W- X- Y- Z
---
© 1997-2019 Mark Wade - Contact
© / Conditions for Use
---