Home - Search - Browse - Alphabetic Index: 0- 1- 2- 3- 4- 5- 6- 7- 8- 9
A- B- C- D- E- F- G- H- I- J- K- L- M- N- O- P- Q- R- S- T- U- V- W- X- Y- Z
---
Strizh
---
Part of Baklan
---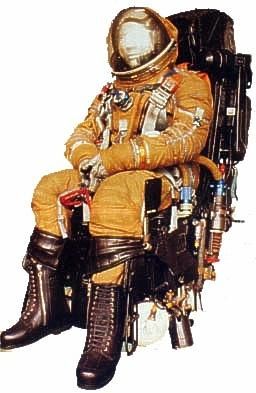 Strizh Suit
Strizh suit for Buran
Credit: Zvezda
Russian space suit, operational 1990. The Strizh full-pressure suit was developed for the Buran program. It was qualified to protect the cosmonaut in ejections from the spaceplane at altitudes up to 30 km and speeds of up to Mach 3.
Status: operational 1990.
The suit and the K-36RB (or K-36M-11F35) ejection seat were tested during ascent of a Soyuz booster in a series of five Progress launches (Progress 38 through 42) in 1988-1990.
---
---
Family
:
Space Suits
.
Country
:
Russia
.
Agency
:
Zvezda Design Bureau
.
---
Photo Gallery
---
---
K-36DM Ejection Seat
Buran ejection seat
Credit: Zvezda
---
---
Strizh Suit
Strizh suit for Buran
---
---
---
Back to top of page
---
Home - Search - Browse - Alphabetic Index: 0- 1- 2- 3- 4- 5- 6- 7- 8- 9
A- B- C- D- E- F- G- H- I- J- K- L- M- N- O- P- Q- R- S- T- U- V- W- X- Y- Z
---
© 1997-2019 Mark Wade - Contact
© / Conditions for Use
---