Home - Search - Browse - Alphabetic Index: 0- 1- 2- 3- 4- 5- 6- 7- 8- 9
A- B- C- D- E- F- G- H- I- J- K- L- M- N- O- P- Q- R- S- T- U- V- W- X- Y- Z
---
Stabilo
---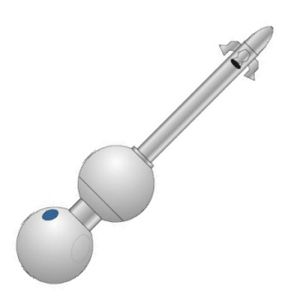 Stabilo
Credit: © Mark Wade
Romanian manned spacecraft. Study 2013. Stabilo was a suborbital manned system developed by ARCA.
Status: Study 2013. Thrust: 30.00 kN (6,744 lbf). Gross mass: 1,000 kg (2,200 lb). Unfuelled mass: 500 kg (1,100 lb). Height: 6.00 m (19.60 ft). Diameter: 1.40 m (4.50 ft).
Prior X Prize work on the abortive Demonstrator 2B and Orizont over seven years led to a unique single-crew, balloon-launched, tractor-rocket system for suborbital spaceflight. The approach was everywhere to obtain minimum cost and maximum reliability.
The spacecraft, with a total mass of about one metric ton, would be taken to 22 km altitude by a 350,000 cubic meter balloon. Ascent to this altitude would take about 1 hour 35 minutes. At that point the hydrogen peroxide monopropellant engine would ignite and thrust through the balloon envelope and on toward space. The motor would burn 800 kg of propellant at 30kN for sixty seconds, pulling the spherical manned capsule to a cut-off velocity of 1250 m/s at 4.5 to 6.8 G's peak acceleration. Then the spherical cabin would separate from the tractor motor, and coast upward to 100 km peak altitude.
A reaction control system oriented the capsule in space. Maximum deceleration during re-entry would be 4.6 G's. At 4 km altitude and 350 kph descent speed the capsule's main parachute would deploy, braking the capsule and its occupant to a 7m/s landing.
The tractor rocket system would also be recovered. Reusable, it could be used for single-person ascents or as a sounding rocket to deliver instruments or microgravity payloads to altitude. The Demonstrator 2B rocket launched from Cape Midia Air Force Test Site on September 9 2004 used the simple pressure-fed hydrogen peroxide rocket technology planned for Stabilo. The hydrogen peroxide would decompose into steam in a single combustion chamber, and be exhausted through four nozzles. Composite materials, sheathing an internal heat sink core, were used for the external and internal surfaces of the chamber and nozzles, and the propellant tank. Helium was used to feed propellants to the chamber.
The reaction control system consisted of six cold-gas thrusters using pressurized air. The crew cabin was pressurized at 0.8 atm and contained navigation, flight control and life support systems. Access was via an auto-pressurized side hatch, and the pilot was provided with a DeLeon pressure suit. The occupant would have a panoramic view through three portholes. Avionics operates via ground command in a semi-automated mode, and included GPS and inertial instruments.
The carrier balloon was a zero pressure Solar Montgolfier type, made of 15-micormeter high density polyethylene. The balloon used solar radiation to heat the inside air to a 30 deg C differential with the external air. The balloon would be the largest of its type.
Spacecraft delta v: 1,250 m/s (4,100 ft/sec).
---
---
Family
:
Manned spacecraft
,
New Space Tourism
,
Suborbital
.
Country
:
Romania
.
Agency
:
ACRA
.
---
---
Back to top of page
---
Home - Search - Browse - Alphabetic Index: 0- 1- 2- 3- 4- 5- 6- 7- 8- 9
A- B- C- D- E- F- G- H- I- J- K- L- M- N- O- P- Q- R- S- T- U- V- W- X- Y- Z
---
© 1997-2019 Mark Wade - Contact
© / Conditions for Use
---