Home - Search - Browse - Alphabetic Index: 0- 1- 2- 3- 4- 5- 6- 7- 8- 9
A- B- C- D- E- F- G- H- I- J- K- L- M- N- O- P- Q- R- S- T- U- V- W- X- Y- Z
---
SRAM-2
---
Part of SRAM
---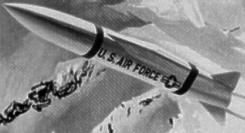 SRAM-2
American Short Range Attack Missile, an air-launched nuclear-armed solid-propellant stand-off weapon to replace the SRAM. Mission was to allow B-52 and B-1 bombers to penetrate Soviet air space. Cancelled in 1991 after the collapse of the Soviet Union without going into service.
AKA: AGM-131;AGM-131A;SRAM II;SRAM T. Gross mass: 877 kg (1,933 lb). Height: 4.27 m (14.00 ft). Diameter: 0.40 m (1.31 ft). Span: 0.61 m (2.00 ft).
The SRAM-2 air-launched ballistic missile was a replacement for the SRAM stand-off weapon that allowed American bombers to penetrate Soviet air space. SRAM-2 was to be smaller, so that more missiles could be carried per bomber. New rocket motors and a different nuclear warhead would remedy problems with the original missile. SRAM-2's fortunes were tied to that of the B-1 bomber, which was cancelled in 1978, but then resurrected and put into production in 1981. So although design work began in 1977, Boeing did not receive a development contract until 1986. The missile was to become operational in 1993, but was cancelled in 1991 after the end of the Cold War and the collapse of the Soviet Union eliminated its mission. A B-1B bomber would have carried 36 of the missiles, and a tactical version was in test for the F-15.
Maximum range: 390 km (240 mi). Number Standard Warheads: 1. Boost Propulsion: Solid rocket. Initial Operational Capability: 1993.
---
More at: SRAM-2.
---
Family
:
aircraft-launched
,
air-to-surface
.
Country
:
USA
.
Agency
:
Boeing
.
---
Photo Gallery
---
---
SRAM-2
Credit: via Andreas Parsch
---
---
---
Back to top of page
---
Home - Search - Browse - Alphabetic Index: 0- 1- 2- 3- 4- 5- 6- 7- 8- 9
A- B- C- D- E- F- G- H- I- J- K- L- M- N- O- P- Q- R- S- T- U- V- W- X- Y- Z
---
© 1997-2019 Mark Wade - Contact
© / Conditions for Use
---