Home - Search - Browse - Alphabetic Index: 0- 1- 2- 3- 4- 5- 6- 7- 8- 9
A- B- C- D- E- F- G- H- I- J- K- L- M- N- O- P- Q- R- S- T- U- V- W- X- Y- Z
---
SPK
---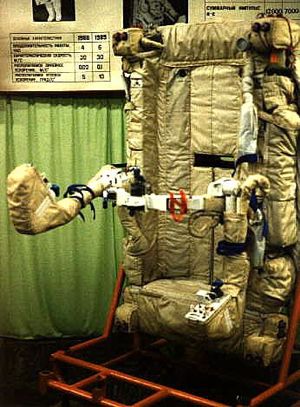 SPK MMU
SPK Manned Manoeuvring Unit
Credit: Andy Salmon
Russian space mobility device, tested 1990. The Soviet Union developed a manned maneuvering unit and flew it from Mir in 1990.
AKA: 21KS. Status: tested 1990. Gross mass: 218 kg (480 lb).
The UMK weighed 218 kg. In case of a malfunction, it remained connected by a tether attached to a winch on an EVA mast installed near the Kvant-2 exit hatch of Mir. The UMK was used on only two EVA's, at distances of up to 45 m from the station. Unlike the shuttle MMU, it was only flown tethered to the station. Like the shuttle MMU, it was retired after a few tests.
---
---
Family
:
Space Suits
.
Country
:
Russia
.
Agency
:
Zvezda Design Bureau
.
---
Photo Gallery
---
---
SPK MMU
Credit: Goodrich
---
---
SPK MMU
Credit: Zvezda
---
---
SPK MMU
Credit: Zvezda
---
---
Soyuz TM-8
Test of SPK Manned Manoeuvring Unit
Credit: RKK Energia
---
---
FEU-170
Credit: Manufacturer Image
---
---
---
Back to top of page
---
Home - Search - Browse - Alphabetic Index: 0- 1- 2- 3- 4- 5- 6- 7- 8- 9
A- B- C- D- E- F- G- H- I- J- K- L- M- N- O- P- Q- R- S- T- U- V- W- X- Y- Z
---
© 1997-2019 Mark Wade - Contact
© / Conditions for Use
---