Home - Search - Browse - Alphabetic Index: 0- 1- 2- 3- 4- 5- 6- 7- 8- 9
A- B- C- D- E- F- G- H- I- J- K- L- M- N- O- P- Q- R- S- T- U- V- W- X- Y- Z
---
Rokot-3 Briz
---
Part of Briz stage series Family
---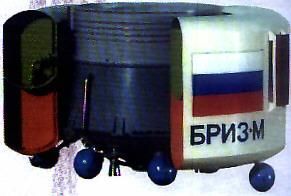 Briz M
Credit: Khrunichev

N2O4/UDMH propellant rocket stage. High performance storable liquid engine. The basic stage can be adapted with 'wrap-around' propellant tanks for Proton booster applications.

AKA: Briz K. Status: Active. Thrust: 19.60 kN (4,406 lbf). Gross mass: 6,565 kg (14,473 lb). Unfuelled mass: 1,600 kg (3,500 lb). Specific impulse: 326 s. Burn time: 1,000 s. Height: 1.30 m (4.20 ft). Diameter: 2.50 m (8.20 ft). Span: 2.50 m (8.20 ft).

Engine system consists of main engine plus four 11D458 plus twelve 17D58E vernier thrusters. Propellant load 3300 kg N2O4 + 1665 kg UDMH. Main engine: Capable of 8 restarts. Maximum burn time 1000 seconds; minimum time 1 second. Time between burns between 15 seconds and 5 hours. Vernier engines: 4 x 40 kgf. Specific impulse 275 sec. Minimum impulse 4 kg-s. Orientation engines: 12 x 1.3 kgf. Specific impulse 270 sec. Minimum impulse 0.068 kg-s. This, the basic version, had a total deliverable impulse of 2,000,000 kgf-s. Minimum impulse 2500 kg-s. Total summary impulse 14,112 kg-s.

Cost $ : 3.000 million.
---
---
Family: Space Tugs. Country: Russia. Engines: 17D58E, 11D458, RDMT-400, RDMT-12, S5.98M. Launch Vehicles: Rokot K. Propellants: N2O4/UDMH.
---
---
Home - Search - Browse - Alphabetic Index: 0- 1- 2- 3- 4- 5- 6- 7- 8- 9
A- B- C- D- E- F- G- H- I- J- K- L- M- N- O- P- Q- R- S- T- U- V- W- X- Y- Z
---
© 1997-2017 Mark Wade - Contact
© / Conditions for Use
---