Home - Search - Browse - Alphabetic Index: 0- 1- 2- 3- 4- 5- 6- 7- 8- 9
A- B- C- D- E- F- G- H- I- J- K- L- M- N- O- P- Q- R- S- T- U- V- W- X- Y- Z
---
Regulus 2
---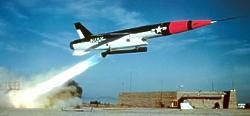 Regulus 2
Credit: via Andreas Parsch
American supersonic sub-to-surface intermediate-range cruise missile, development started in 1953. Program cancelled in 1958 in deference to Polaris project.
AKA: KD2U;KD2U-1;MQM-15A;RGM-15;RGM-15A;SSM-N-9;W27. Status: Cancelled 1958. Payload: 910 kg (2,000 lb). Thrust: 510.90 kN (114,855 lbf). Gross mass: 10,200 kg (22,400 lb). Height: 17.38 m (57.02 ft). Diameter: 1.83 m (6.00 ft). Span: 6.10 m (20.00 ft). Apogee: 18 km (11 mi).
In June 1953 Vought was selected by the US Navy to develop the Regulus II, a supersonic successor to the subsonic Regulus ship-launched cruise missile. The Regulus II would remedy the first generation missile's drawbacks by having autonomous inertial navigation, longer range, and supersonic dash capability through air defenses. However this also resulted in a larger missile, meaning fewer Regulus II's could be deployed per submarine. First test flight was in May 1956, but the schedule slipped due to delays in development of the J79 engine that was to propel the production version. First test launch of the missile from a submarine using the J79 engine was in September 1958. By then the Polaris submarine-launched ballistic missile program was in full development, making cruise missiles obsolete. Regulus was cancelled at the end of 1958, although surplus missiles were flown in guidance technology tests and as targets.
Development Cost $: 144.400 million in 1957 dollars. Maximum range: 1,610 km (1,000 mi). Number Standard Warheads: 1. Standard warhead: W27. Warhead yield: 1,500 KT. Boost Propulsion: Solid rocket. Maximum speed: 2,260 kph (1,400 mph). Initial Operational Capability: 1959.
---
More at: Regulus 2.
---
Family
:
IRCM
,
submarine-launched
,
US Cruise Missiles
.
Country
:
USA
.
Agency
:
Vought
.
Bibliography
:
563
.
---
Photo Gallery
---
---
Regulus 2
Credit: via Andreas Parsch
---
---
---
Back to top of page
---
Home - Search - Browse - Alphabetic Index: 0- 1- 2- 3- 4- 5- 6- 7- 8- 9
A- B- C- D- E- F- G- H- I- J- K- L- M- N- O- P- Q- R- S- T- U- V- W- X- Y- Z
---
© 1997-2019 Mark Wade - Contact
© / Conditions for Use
---