Home - Search - Browse - Alphabetic Index: 0- 1- 2- 3- 4- 5- 6- 7- 8- 9
A- B- C- D- E- F- G- H- I- J- K- L- M- N- O- P- Q- R- S- T- U- V- W- X- Y- Z
---
RD-108-11D512P
---
Part of RD-107 Family
---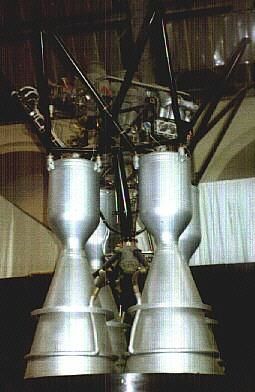 RD-107
Credit: © Mark Wade

Glushko LOx/Kerosene rocket engine. Soyuz 11A511U2-1. Out of production. A 1-2 second specific impulse increase was made possible by the use of synthetic fuel Sintin and a modified mixing head. First flight 1982.

AKA: 11D512P. Status: Out of production. Number: 92 . Thrust: 1,011.00 kN (227,281 lbf). Specific impulse: 319 s. Specific impulse sea level: 252 s. Burn time: 290 s.

This was a very complicated modification. Diameter is per chamber.

Chambers: 4. Thrust (sl): 788.400 kN (177,239 lbf). Thrust (sl): 80,400 kgf.
---
---
Country: Russia. Launch Vehicles: Soyuz-U2. Propellants: Lox/Kerosene. Stages: Soyuz 11A511U2-1. Agency: Glushko bureau.
---
---
Home - Search - Browse - Alphabetic Index: 0- 1- 2- 3- 4- 5- 6- 7- 8- 9
A- B- C- D- E- F- G- H- I- J- K- L- M- N- O- P- Q- R- S- T- U- V- W- X- Y- Z
---
© 1997-2017 Mark Wade - Contact
© / Conditions for Use
---