Home - Search - Browse - Alphabetic Index: 0- 1- 2- 3- 4- 5- 6- 7- 8- 9
A- B- C- D- E- F- G- H- I- J- K- L- M- N- O- P- Q- R- S- T- U- V- W- X- Y- Z
---
R-109
---
Part of Wasserfall
---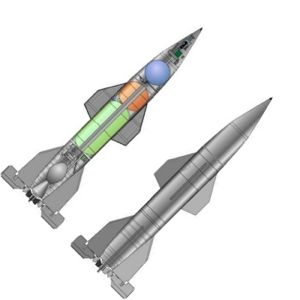 R-101
Credit: © Mark Wade
Russian derivative of the German Wasserfall, an interim design between the R-101 and R-108. The missile did not reach flight test stage before it was cancellation in 1951.
Status: Cancelled 1951.
The R-109 was an interim version of the R-101, between the R-101 and the ultimate R-108, which would use air-pressurized kerosene fuel and a new Russian feed system, resulting in a more economical size and weight of pressurant bottles. This version had a payload of 500 kg and a longer range than the German Wasserfall or the R-101. It also featured more compact radio guidance and electronics, and auto-stabilization in flight. There were improvements as well in camouflage and anti-countermeasures.
---
---
Family
:
surface-to-air
.
Country
:
Russia
.
Agency
:
Sinilshchikov
.
Bibliography
:
571
.
---
---
Back to top of page
---
Home - Search - Browse - Alphabetic Index: 0- 1- 2- 3- 4- 5- 6- 7- 8- 9
A- B- C- D- E- F- G- H- I- J- K- L- M- N- O- P- Q- R- S- T- U- V- W- X- Y- Z
---
© 1997-2019 Mark Wade - Contact
© / Conditions for Use
---