Home - Search - Browse - Alphabetic Index: 0- 1- 2- 3- 4- 5- 6- 7- 8- 9
A- B- C- D- E- F- G- H- I- J- K- L- M- N- O- P- Q- R- S- T- U- V- W- X- Y- Z
---
R-102
---
Part of Schmetterling
---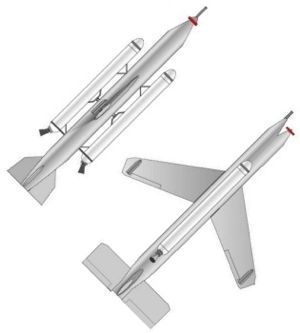 R-102
Credit: © Mark Wade
Post-war Russian version of German Schmetterling surface-to-air missile. 16 test flights made at Kapustin Yar between 18 October and 19 December 1949. Not put into production, cancelled in favor of the R-112.
Status: Cancelled 1950. Payload: 41 kg (90 lb). Thrust: 17.16 kN (3,858 lbf). Gross mass: 460 kg (1,010 lb). Height: 3.75 m (12.30 ft). Diameter: 0.35 m (1.14 ft). Span: 1.98 m (6.49 ft). Apogee: 9.00 km (5.50 mi).
At the end of 1946 SKB-5 of NII-88 was set up under Chief Designer Semyon Yevelyevich Rashkov with the objective of developing mid-range surface-to-air missiles, based on the German Rheintochter and Schmetterling (R-102) designs. In support of the work a major test stand and new experimental laboratories were built. Very little German documentation was available on these missiles. Most of the documents and production examples had either been destroyed or obtained by the United States. Nevertheless, Soviet engineers, with German assistance, pieced together a design package.
Flight test of the R-102 was planned for 1949, but as in the case of the R-101 / Wasserfall, development took much longer than expected. The first test launches of inert missiles with active booster stages were conducted at Sofrinskiy Range in the summer of 1949, with the limited goal of just solving the problem of finding what arrangement of booster rockets was best for a stable launch from the mobile trailer. By the fall of 1949 the first prototype rocket was completed at Factory 88. The first series of all-up test launches was conducted between 18 October and 15 December 1949.
The missile design proved difficult to control. The thrust of the motor varied with Mach number, and the fuel flow to the engine was affected by maneuvers. It was finally decided that the basic layout of the Rheintochter was not appropriate for operation as a surface-to-air missile. Furthermore these initial flight tests were far ahead of the development of the guidance system.
Therefore it was planned to develop a modernized version of the rocket with the index of R-102M. NII-88 planned to complete 20 prototypes of these rockets in 1950, with tests at Kapustin Yar to support completion of the technical project for the design. Detailed parts for the R-102M were 90% complete in 1949 when the missile was cancelled in favor of a more advanced derivative that it was hoped would solve the control problems, the R-112.
Maximum range: 16 km (9 mi). Boost Propulsion: Solid rocket, 2 x 45 kg boosters, 1.95 m x .156 m. Cruise Thrust: 19.600 kN (4,406 lbf). Cruise Thrust: 2,000 kgf. Maximum speed: 262 kph (162 mph).
---
---
Family
:
surface-to-air
.
Country
:
Russia
.
Agency
:
Rashkov bureau
.
Bibliography
:
571
.
---
---
Back to top of page
---
Home - Search - Browse - Alphabetic Index: 0- 1- 2- 3- 4- 5- 6- 7- 8- 9
A- B- C- D- E- F- G- H- I- J- K- L- M- N- O- P- Q- R- S- T- U- V- W- X- Y- Z
---
© 1997-2019 Mark Wade - Contact
© / Conditions for Use
---