Home - Search - Browse - Alphabetic Index: 0- 1- 2- 3- 4- 5- 6- 7- 8- 9
A- B- C- D- E- F- G- H- I- J- K- L- M- N- O- P- Q- R- S- T- U- V- W- X- Y- Z
---
PPM
---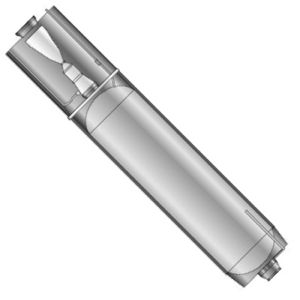 PPMS
IMIS Primary Propulsion Module
Credit: © Mark Wade

American space tug. Study 1968. The Primary Propulsion Module was the definitive 1960's design for a nuclear thermal rocket stage suitable for interplanetary operations.

AKA: Primary Propulsion Module. Status: Study 1968. Thrust: 866.90 kN (194,887 lbf). Gross mass: 245,600 kg (541,400 lb). Unfuelled mass: 71,000 kg (156,000 lb). Specific impulse: 850 s. Height: 48.20 m (158.10 ft). Diameter: 10.06 m (33.00 ft).

The basic NERVA stage was modified to allow for docking and assembly in orbit, storage and reliquefaction of its liquid hydrogen propellant for periods of up to three years on long voyages to Mars and Venus, and to feed propellant to lower stages as needed.

Detailed mass breakdown was as follows:
Liquid hydrogen propellant: 174,600 kg
NERVA nuclear thermal engine system: 14,500 kg
Propellant tank: 22,700 kg
Stage equipment: 2700 kg
Meteoroid shield: 19,000 kg
Interstage structures: 5200 kg
11% growth and contingency allowance: 6800 kg
---
---
Family: Space Tugs. Country: USA. Engines: Nerva-1. Spacecraft: IMIS 1968, Von Braun Mars Expedition - 1969. Propellants: Nuclear/LH2. Agency: Boeing. Bibliography: 253.
---
---
Home - Search - Browse - Alphabetic Index: 0- 1- 2- 3- 4- 5- 6- 7- 8- 9
A- B- C- D- E- F- G- H- I- J- K- L- M- N- O- P- Q- R- S- T- U- V- W- X- Y- Z
---
© 1997-2017 Mark Wade - Contact
© / Conditions for Use
---