Home - Search - Browse - Alphabetic Index: 0- 1- 2- 3- 4- 5- 6- 7- 8- 9
A- B- C- D- E- F- G- H- I- J- K- L- M- N- O- P- Q- R- S- T- U- V- W- X- Y- Z
---
P5 Hall thruster
---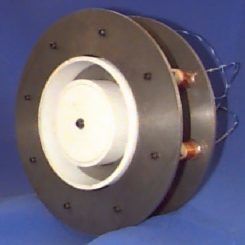 P5
UM-USAF electric/xenon rocket engine. 5 kW Hall thruster for research purposes.
Thrust: 0.25 N (0.06 lbf). Specific impulse: 2,326 s.
5 kW Hall thruster, SPT type. The University of Michigan and the United States Air Force Research Laboratory designed and built the P5 5 kW Hall thruster for research purposes. The P 5 had a discharge chamber outer diameter of 173 mm and was designed to emulate the characteristics of commercial Hall thrusters. Measurements showed that this thruster had performance characteristics comparable to commercial models. This thruster was used for long term research projects at the University of Michigan.
Electrical Input Power: 5.00 kW.
---
---
Country
:
USA
.
Propellants
:
Electric/Xenon
.
Agency
:
UM-USAF
.
---
---
Back to top of page
---
Home - Search - Browse - Alphabetic Index: 0- 1- 2- 3- 4- 5- 6- 7- 8- 9
A- B- C- D- E- F- G- H- I- J- K- L- M- N- O- P- Q- R- S- T- U- V- W- X- Y- Z
---
© 1997-2019 Mark Wade - Contact
© / Conditions for Use
---