Home - Search - Browse - Alphabetic Index: 0- 1- 2- 3- 4- 5- 6- 7- 8- 9
A- B- C- D- E- F- G- H- I- J- K- L- M- N- O- P- Q- R- S- T- U- V- W- X- Y- Z
---
Ouyang Ziyuan
---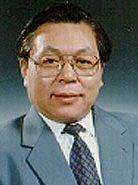 Ouyang Ziyuan
Credit: NASA
Chinese geochemist. Leading Chinese authority on extraterrestrial material.
Born: 1935. Birth Place: Jian, Jiangxi.
Educated Beijing Geo.
Official Chinese Academy of Sciences Biography
Ouyang Ziyuan
Cosmochemist and geochemist. Born in Ji'an, Jiangxi Province. Graduated from Beijing College of Geology and finished graduate studies in the Institute of Geology, Chinese Academy of Sciences. Research professor, Institute of Geochemistry, Chinese Academy of Sciences.
Ouyang was in charge of the comprehensive geological research on underground nuclear test and systematically carried out studies on extraterrestrial materials (meteorite, cosmic dust and lunarrock) and comparative planetology. He proposed a hypothesis to interpret the origin of iron meteorite, the formation and evolution model of the Jilin meteorite shower and a theory to study the multistage history of cosmic ray irradiation. He discovered and proposed a criterion series to identify the ablated cosmic dust existed in geological bodies. He classified cosmic dusts according to the origin. He developed a series of new models and theories about the chemical heterogeneity of the solar nebula, the model abundance of planets, the origins and evolution of the Earth's atmosphere, hydrosphere and other internal spheres and the energy source and evolution stages of the Earth. In addition, he substantiated the genetic theory of tektites, argued the impact event corresponding to the boundary between Cretaceous and Tertiary of China, and put forward the hypothesis that the impact of extraterrestrial objects might induce paleoclimate cycles.
He was elected Member of the Chinese Academy of Sciences in 1991.
---
---
Country
:
China
.
Bibliography
:
5856
.
---
---
Back to top of page
---
Home - Search - Browse - Alphabetic Index: 0- 1- 2- 3- 4- 5- 6- 7- 8- 9
A- B- C- D- E- F- G- H- I- J- K- L- M- N- O- P- Q- R- S- T- U- V- W- X- Y- Z
---
© 1997-2019 Mark Wade - Contact
© / Conditions for Use
---