Home - Search - Browse - Alphabetic Index: 0- 1- 2- 3- 4- 5- 6- 7- 8- 9
A- B- C- D- E- F- G- H- I- J- K- L- M- N- O- P- Q- R- S- T- U- V- W- X- Y- Z
---
Orion Test Article
---
Part of Orion Nuclear Pulse Vehicle
---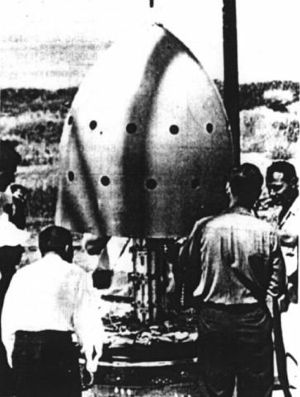 Orion Test Vehicle
Preparation of Orion pulse test vehicle.
American nuclear pulse test vehicle. The original test article for Project Orion had a total mass of 133 kg including its bullet-shaped outer shell.
Gross mass: 133 kg (293 lb). Height: 1.20 m (3.90 ft). Diameter: 1.00 m (3.20 ft).
Six charges, each with 1.04 kg of C4 high explosive, were ejected from the rear of the pusher plate and exploded 866 mm behind the plate. An initial charge of 452 kg of gunpowder in a mortar-like launch cylinder got the craft going. The original article was too heavy to accelerate after running out of momentum from the original charge.
---
---
Family
:
nuclear pulse
,
test vehicle
.
Country
:
USA
.
Agency
:
General Atomic
.
---
---
Back to top of page
---
Home - Search - Browse - Alphabetic Index: 0- 1- 2- 3- 4- 5- 6- 7- 8- 9
A- B- C- D- E- F- G- H- I- J- K- L- M- N- O- P- Q- R- S- T- U- V- W- X- Y- Z
---
© 1997-2019 Mark Wade - Contact
© / Conditions for Use
---