Home - Search - Browse - Alphabetic Index: 0- 1- 2- 3- 4- 5- 6- 7- 8- 9
A- B- C- D- E- F- G- H- I- J- K- L- M- N- O- P- Q- R- S- T- U- V- W- X- Y- Z
---
Orion Saturn V
---
Part of Orion Nuclear Pulse Vehicle
---
---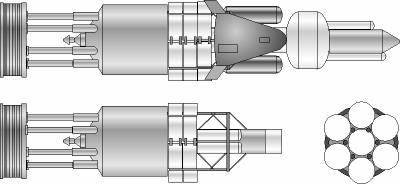 Orion Saturn V
Saturn V-launched Orion
---
American nuclear pulse orbital launch vehicle. The final iteration of the Orion design was a nuclear pulse propulsion module launched into earth orbit by a Saturn V. The 100 metric ton unit would have had a diameter of 10 m to match that of the booster. This would limit specific impulse to 1800 to 2500 seconds, still two to three times that of a nuclear thermal system.
Status: Design 1965. Payload: 100,000 kg (220,000 lb). Gross mass: 100,000 kg (220,000 lb). Height: 50.00 m (164.00 ft). Diameter: 10.00 m (32.00 ft).
A second launch would put a 100 metric ton Mars spacecraft with a crew of eight into orbit. After rendezvous and checkout, the combined 200 metric ton spacecraft would set out on a round trip to the Mars - total mission duration as little as 125 days!
Payload: 100,000 kg (220,000 lb) to a Mars and back.
---
---
Family
:
nuclear pulse
,
orbital launch vehicle
.
Country
:
USA
.
Agency
:
General Atomic
.
---
Photo Gallery
---
---
Orion Versions
Saturn V-launched Orion; Original Orion
---
---
Orion Upper Stage
Orion configured as Saturn V upper stage.
---
---
Orion/Saturn V
Orion launch profile on Saturn V
---
---
Orion at Mars
Orion nuclear pulse vessel arrives at Mars and releases lander.
---
---
Orion Mars Configura
Orion configured for Mars expedition.
---
---
---
Back to top of page
---
Home - Search - Browse - Alphabetic Index: 0- 1- 2- 3- 4- 5- 6- 7- 8- 9
A- B- C- D- E- F- G- H- I- J- K- L- M- N- O- P- Q- R- S- T- U- V- W- X- Y- Z
---
© 1997-2019 Mark Wade - Contact
© / Conditions for Use
---