Home - Search - Browse - Alphabetic Index: 0- 1- 2- 3- 4- 5- 6- 7- 8- 9
A- B- C- D- E- F- G- H- I- J- K- L- M- N- O- P- Q- R- S- T- U- V- W- X- Y- Z
---
Orbital Vehicle
---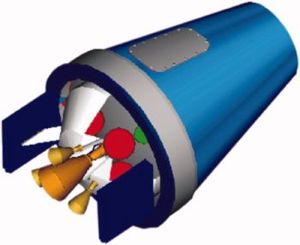 Orbital Vehicle
ISRO concept of 2008
Credit: ISRO
Indian manned spacecraft. Design of an Indian manned spacecraft began in October 2006. Dependent on a full funding decision at the end of 2008, planned first flight of the two-man capsule atop a GSLV-II booster was 2015. This initial design was succeeded by a much larger design to be lofted by the GSLV-III launch vehicle.
Status: Study 2008. Gross mass: 4,500 kg (9,900 lb). Height: 3.30 m (10.80 ft). Diameter: 2.00 m (6.50 ft).
An initial funding of $23 million was provided for 2007-2008 for concept work on the capsule, spacesuits, and mission simulation. Full funding of $2.2 billion would have to be approved by the end of 2008 in order to make the 2015 operational date. Estimates in 2006, perhaps more realistic, had been that the program would cost $4.3 billion and take eight years.
ISRO had launched and recovered the 550-kg Space Recovery Capsule in January 2007. The full-scale manned capsule was said to be derived from this, although ISRO's published concept showed a more elongated conical shape than the SRE. The launch vehicle would be a version of India's Geosynchronous Satellite Launch Vehicle Mark 2, with a structurally-strengthened upper stage to accommodate the heavier low-earth-orbit manned capsule as opposed to the lighter standard geosynchronous-transfer-orbit satellite payload.
A crew of two to three was mentioned. Although ISS orbital capability of the GSLV Mark 2 was 4.6 metric tons, a spacecraft mass of 2.5 to 3.0 metric tons was mentioned - perhaps this was the capsule only. The illustration showed a main engine and smaller orientation engines arranged in a light package around the base of the capsule, indicating an earth-orbit maneuvering capability was to be included. The nose was free for a docking mechanism, but primary entry was evidently through a side hatch secured by explosive bolts.
India would receive assistance in crew selection and training from Russia under an agreement signed between the two countries in March 2008. One option being studied would be flight of an Indian astronaut aboard a Soyuz capsule by 2012 in preparation for the Indian mission.
India's schedule was ambitious under any circumstances, and even if funding materialized, its history of performance on other indigenous aerospace programs made it unlikely that the capsule would fly before 2020. Earliest accounts had mentioned a manned flight to the moon. This would be possible at the low end of the indicated payload range, 2500 kg, within the payload capability of an improved GSLV, and perhaps account for the lightweight capsule plus modest propulsion package shown in the ISRO illustration.
The initial design was superseded from 2009 by the much larger Orbital Vehicle with a Soyuz-type reentry vehicle.
Crew Size: 3.
---
---
Family
:
Manned spacecraft
,
New Generation Crewed
.
Country
:
India
.
Launch Vehicles
:
GSLV
.
Agency
:
ISRO
.
---
Photo Gallery
---
---
New Generation
Manned Spacecraft
Credit: © Mark Wade
---
---
New Generation
Launch Escape Systems of New Generation Manned Spacecraft
Credit: © Mark Wade
---
---
---
Back to top of page
---
Home - Search - Browse - Alphabetic Index: 0- 1- 2- 3- 4- 5- 6- 7- 8- 9
A- B- C- D- E- F- G- H- I- J- K- L- M- N- O- P- Q- R- S- T- U- V- W- X- Y- Z
---
© 1997-2019 Mark Wade - Contact
© / Conditions for Use
---