Home - Search - Browse - Alphabetic Index: 0- 1- 2- 3- 4- 5- 6- 7- 8- 9
A- B- C- D- E- F- G- H- I- J- K- L- M- N- O- P- Q- R- S- T- U- V- W- X- Y- Z
---
North American Air Augmented VTOVL
---
---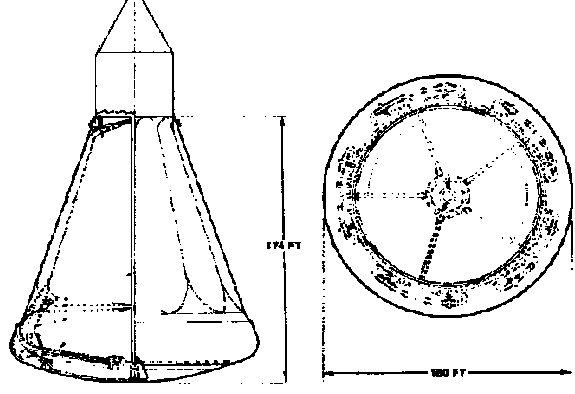 NA AA VTOVL
North American Air Augmented VTOVL
Credit: NASA
---
North American Aviation's air-augmented vertical takeoff & landing single-stage-to-orbit RLV from 1963 would have used external burning ramjets which, according to preliminary studies would reduce the gross liftoff mass of a VTVL SSTO by up to 30%.
Status: Study 1963. Payload: 453,600 kg (1,000,000 lb). Gross mass: 13,607,000 kg (29,998,000 lb). Height: 53.00 m (173.00 ft). Diameter: 48.80 m (160.10 ft).
The sensitivity to air-augmentation system weight would however be quite high. A pure rocket-powered version would have a gross liftoff mass of 13,607t including a 453.6-metric ton useful payload. The maximum diameter was 48.8m and the length without payload fairing was 53m. This design was initially classified by the US Department of Defense before being resurrected for Rockwell's and NASA's solar power satellite launch studies in the late 1970s.
LEO Payload: 453,600 kg (1,000,000 lb).
---
---
Family
:
orbital launch vehicle
,
SSTO
.
Country
:
USA
.
Agency
:
North American
.
Bibliography
:
515
,
516
.
---
---
Back to top of page
---
Home - Search - Browse - Alphabetic Index: 0- 1- 2- 3- 4- 5- 6- 7- 8- 9
A- B- C- D- E- F- G- H- I- J- K- L- M- N- O- P- Q- R- S- T- U- V- W- X- Y- Z
---
© 1997-2019 Mark Wade - Contact
© / Conditions for Use
---