Home - Search - Browse - Alphabetic Index: 0- 1- 2- 3- 4- 5- 6- 7- 8- 9
A- B- C- D- E- F- G- H- I- J- K- L- M- N- O- P- Q- R- S- T- U- V- W- X- Y- Z
---
Nika-T
---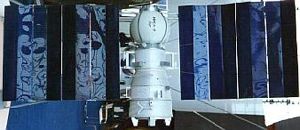 Nika-T
Credit: © Oliver Haßa
Russian materials science satellite. Study 1998. By the late 1990's the Foton Design Bureau anticipated testing a much more capable microgravity spacecraft as a follow-on to the successful Foton program.
Status: Study 1998. Gross mass: 9,000 kg (19,800 lb). Height: 9.30 m (30.50 ft).
Designated Nika-T (Scientific Research Spacecraft Technological), the vehicle would retain the spherical re-entry capsule of Foton but would possess significantly improved support systems. The 9 metric ton Nika-T would be capable of returning payloads of up to 1,200 kg after missions of 3-4 months. Early Nika-T concepts envisioned a maximum spacecraft diameter of 2.7 m and a length of 9.3 m, but later diagrams suggested that the length was reduced slightly. Two solar arrays would generate 6 kW, of which 4.5 kW would be available for the microgravity payload. A third array was part of the thermal control system's heat rejection loop.
Nika-T was to be launched by the Zenit launch vehicle into sun-synchronous orbits of 300-500 km at inclinations of 96-98 degrees. To protect the fragile materials sciences samples, the landing velocity of the capsule would be reduced to only 5 m/s. At least two new materials science instruments were being developed for Nika-T: the Zona 8 and the Konstanta 4 furnaces. The former would be capable of accepting sample cartridges of 40 mm diameter and 200 mm length, whereas the latter would possess a 85 mm diameter and 400 mm length capacity.
Electric System: 6.00 average kW.
---
---
Family
:
Materials
,
Materials science satellite
.
Country
:
Russia
.
Agency
:
Kozlov bureau
.
Bibliography
:
119
.
---
Photo Gallery
---
---
| | |
| --- | --- |
| | Nika |
---
---
---
Back to top of page
---
Home - Search - Browse - Alphabetic Index: 0- 1- 2- 3- 4- 5- 6- 7- 8- 9
A- B- C- D- E- F- G- H- I- J- K- L- M- N- O- P- Q- R- S- T- U- V- W- X- Y- Z
---
© 1997-2019 Mark Wade - Contact
© / Conditions for Use
---