Home - Search - Browse - Alphabetic Index: 0- 1- 2- 3- 4- 5- 6- 7- 8- 9
A- B- C- D- E- F- G- H- I- J- K- L- M- N- O- P- Q- R- S- T- U- V- W- X- Y- Z
---
Nautilus
---
Part of Bigelow
---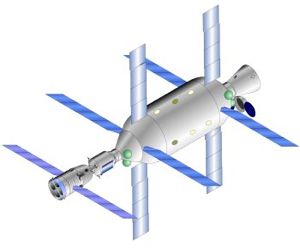 Nautilus
Credit: © Mark Wade
American manned space station module. Study 2013. Inflatable pressurized habitat module for use in manned space stations, lunar, or interplanetary spacecraft or bases. Developed by Bigelow Aerospace using private funds.
AKA: BA-330. Status: Study 2013. Gross mass: 20,000 kg (44,000 lb). Height: 13.70 m (44.90 ft). Diameter: 4.57 m (14.99 ft).
In late 2006 it was said that the Nautilus had been replaced by a BA-330 design with the same internal volume. How the BA-330 differed from the Nautilus concept was unclear.
The Nautilus would prove 330 cubic meters of pressurized volume. In late 2006 the initial test flight, originally scheduled for 2008, was delayed to beyond 2010. Instead Nautilus or the 330-cubic-meter BA-330 that replaced it, would be preceded by a 50% scale Sundancer three-crew module, to be orbited by 2010.
Bigelow developed the module using his own funds, keeping costs down by using commercial rather than government/aerospace business practices. He obtained the patent rights and key engineers for the Transhab inflatable space station technology abandoned by NASA. The inflatable module consisted of three layers: an inner, plastic air bladder to retain pressure; a restraint layer, consisting of crisscrossing synthetic-fiber 2.5-cm-wide straps, that kept the shape of the module and positioned and held the windows and module ends in place; and an outer Micrometeoroid and Orbital Debris Shield, made of five graphite-epoxy layers spaced with synthetic foam. The shield had a stopping power greater than 12 cm of aluminum alloy. A longeron truss ran down the center of the module.
Bigelow planned to invest $500 million into the project through 2015, with the space hotel opening no earlier than 2013. Tickets would cost $7.9 million at first, declining if cheaper manned access to space could be developed. To encourage this, Bigelow created the America Space Prize, offering $50 million to the first privately-developed orbital spacecraft that could dock with his first Nautilus module by 2010. Even at the $7.9 million level, it was expected up to thirty guests per year would be booking time aboard the station.
The Nautilus ECS system was procured from EADS Astrium at a fraction of the cost of US-source systems. This system removed carbon dioxide removal with solid amine chemically-coated beads. Pressure of the module would be maintained at 0.7 atmospheres. Bigelow had several dozen subcontractors, often more than two on each subsystem, in order to reduce risk and identify the best and lowest cost solution through actual hardware evaluation rather than endless engineering study and paperwork. The entire development was kept very secret, and firm technical details were extremely scarce.
Habitable Volume: 330.00 m3.
---
---
Family
:
New Space Tourism
,
Space station module
,
Space station orbit
.
Country
:
USA
.
Agency
:
Bigelow
.
---
---
Back to top of page
---
Home - Search - Browse - Alphabetic Index: 0- 1- 2- 3- 4- 5- 6- 7- 8- 9
A- B- C- D- E- F- G- H- I- J- K- L- M- N- O- P- Q- R- S- T- U- V- W- X- Y- Z
---
© 1997-2019 Mark Wade - Contact
© / Conditions for Use
---