Home - Search - Browse - Alphabetic Index: 0- 1- 2- 3- 4- 5- 6- 7- 8- 9
A- B- C- D- E- F- G- H- I- J- K- L- M- N- O- P- Q- R- S- T- U- V- W- X- Y- Z
---
MC-3
---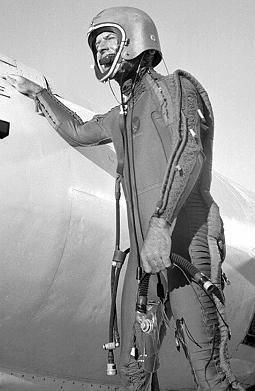 MC-3 Suit
Test Pilot Walker in MC-3 suit with X-1E.
Credit: NASA
American pressure suit, operational 1957. A capstan partial pressure suit with horizontal shoulder zipper, sewn break lines, no anti-G, height/weight sizing criteria, used on bomber and reconnaissance aircraft, came in 12 sizes.
Status: operational 1957.
The MA-2 helmet was by ILC Dover. Many variants of this suit were used for special projects such as the XS-1, X-1A, and X-2 rocket aircraft, the Project Man High balloon flights and Kittinger's Project Excelsior stratosphere parachute jump from 31.3 km in1960.
The MA-2 helmet was an upgraded version of the improved K-1. It featured a white-painted improved K-1 fiberglass shell, had an AIC-10 communication set-up, and used an improved, high-pressure oxygen delivery hose on its faceplate.
It was a singularly interesting fact that in the early 1960s many of these partial pressure suits, specifically the T-1, MC-1 and MC-3 models--along with the improved K-1 helmet--were declassified and sold to the public as surplus military equipment. Alert, interested individuals who encountered them by chance in military surplus stores, where they lay languishing in dingy cardboard cartons, could purchase them as curiosities for as little as a few dollars. Not long after this the discarded partial pressure suits were again reclassified and hastily called up from the surplus outlets to be given to NATO nations under the US military assistance program to friendly powers. Despite this fact, a considerable number of these suits remain in the hands of military aeronautical memorabilia collectors to this day, dating from that brief period of Air Force oversight. Few who saw them could ever forget the curious "Captain Company" advertisements--appearing in Forrest J. Ackerman's Famous Monsters of Filmland magazine--which offered new and unissued K-1 helmets for $15 and the partial pressure suits used with them for only $7.98!
---
---
Subtopics
---
| | |
| --- | --- |
| | MC-3A American pressure suit, operational 1958. A modified MC-3 suit with vertical shoulder laces and adjustable break lines. Produced by David Clark and Berger Brothers. MA-2 helmet by ILC Dover. |
---
| | |
| --- | --- |
| | S-100 American pressure suit, operational 1965. Pressure suit which introduced many modifications from the early MC-3A capstan suits. |
---
Family
:
Space Suits
.
Country
:
USA
.
Agency
:
David Clark
.
Bibliography
:
487
.
---
Photo Gallery
---
---
MC-3 Capstan Suit
Credit: USAF
---
---
---
Back to top of page
---
Home - Search - Browse - Alphabetic Index: 0- 1- 2- 3- 4- 5- 6- 7- 8- 9
A- B- C- D- E- F- G- H- I- J- K- L- M- N- O- P- Q- R- S- T- U- V- W- X- Y- Z
---
© 1997-2019 Mark Wade - Contact
© / Conditions for Use
---