Home - Search - Browse - Alphabetic Index: 0- 1- 2- 3- 4- 5- 6- 7- 8- 9
A- B- C- D- E- F- G- H- I- J- K- L- M- N- O- P- Q- R- S- T- U- V- W- X- Y- Z
---
MC-2
---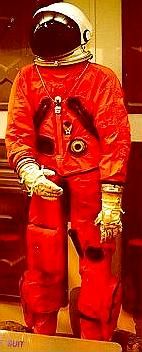 X-15 Space Suit
Credit: NASA
American pressure suit, operational 1958. The XMC-2 full pressure suit developed in the mid-1950s jointly by Wright Field personnel and the David Clark Company for X-15 pilots.
AKA: X-15 Pressure Suit. Status: operational 1958.
It represented a major advance in pressure suit technology, serving as prototype for those used later by Mercury and Gemini astronauts. The suit included an integrated parachute harness. It required custom sizing and was produced in many variants by the David Clark Company as Model S794-5. It allowed the wearer freedom of movement while keeping him comfortable and protected in the event of cabin pressure failure or emergency ejection from the X-15 at extreme altitudes. The suit incorporated a ventilation layer to cool the user and an outer heat resistant layer. The helmet was built by the Bill Jack Company and contained oxygen equipment, microphone and earphones, and an anti-fogging feature.
Whatever the political nuances involved, an invitation was made in 1955 by the US Air Force to a number of companies to submit full pressure suit designs for consideration. As a result, several contracts were awarded and two of the leading designs were designated the XMC-2-ILC (International Latex Corporation, or ILC) and the (David Clark) XMC-2-DC. While ILC would later figure significantly in subsequent protective suits for use in the American space program's orbital and lunar missions, the ILC proposal, utilizing the familiar tomato-worm" joint approach, was selected for funding by NASA, the David Clark Company design (XMC-2-DC) was chosen for Air Force research and continued concept exploration. Later, the David Clark Corporation succeeded in bringing about a major breakthrough in suit design through the use of an inner nylon mesh (called linknet) to control inflation and enhance range of motion, thereby eliminating the need for the tomato-worm bellows at the limb joints. The David Clark XMC-2-DC prototype, although still in need of substantial development, evolved into the MC-2 suit and then into a standardized Air Force high altitude, full pressure garment known as the A/P22S-2 model.
Interestingly, the Soviet Union had reportedly encountered markedly similar "control" problems in the development of their full pressure suits for space use. Curiously, however, the Russian VKK-4 and -6Ms partial pressure suits, as used with their aluminum GSh-4 and -6 helmets in such aircraft types as the MiG-21, bear more than superficial similarity to the American capstan-type mechanical partial pressure suits. No such similar or congruent design conformities, coincidental or otherwise, appear to exist with regard to US and Soviet full pressure suit developments.
The Air Force's MC-2 suit underwent, thereafter, a number of one-off 'dash' modifications for use in various high performance experimental aircraft testing programs and was extensively used in the X-15 program, protecting flight test pilots at speeds in excess of almost Mach 7 and altitudes of 107,960 meters. Cine and still photographs of that era (60s) often show experimental test pilots dressed in the ubiquitous aluminized fabric covered (David Clark produced) MC-2 type full pressure suits as they tested aircraft at the limits of space. The primary standard Air Force design which derived from the MC-2, the A/P22S-2 suit, evolved into a series of variant models designated A/P22S-4, A/P22S-6 and A/P22s-6A (David Clark designations for the USAF High Altitude Flying Outfit A/P22S-6 and HAFO A/P22S-6A were S1024 and S1024B, respectively). The distinctive aluminized fabric outer layer which visually characterized the experimental aircraft project MC-2 type suits was intended to provide ultraviolet and thermal radiation protection for pilots. This feature was also used on the Project Mercury suits and kept to have captured the imagination of Hollywood's movie makers, as seemingly every science fiction film of the 1970s period depicts characters dressed in silvered 'space suits'.
---
---
Subtopics
---
| | |
| --- | --- |
| | MB-1 American pressure suit, tested 1957. MB-1 & 2 were experimental test pilot's partial pressure suits using the K-1 helmet. |
---
| | |
| --- | --- |
| | A/P 22S-2 American pressure suit, operational 1960. The David Clark XMC-2-DC prototype, although still in need of substantial development, evolved into the MC-2 suit and then into a standardized Air Force high altitude, full pressure garment known as the A/P 22S-2. |
---
| | |
| --- | --- |
| | A/P22S-4 American pressure suit, operational 1967. Full pressure suit replacement for the A/P22S-2, 8 sizes for use in bomber and reconnaissance aircraft. Evolved from the original MC-2 design. |
---
| | |
| --- | --- |
| | A/P22S-6 American pressure suit, operational 1975. Full pressure suit replacement for the A/P22S-4. 12 sizes, for bomber, reconnaissance and fighter aircraft. |
---
| | |
| --- | --- |
| | A/P22S-6A American pressure suit, operational 1975. Modified A/P22S-6 suit to add urine collection device with other material and hardware changes. |
---
Family
:
Space Suits
.
Country
:
USA
.
Agency
:
USAF
,
David Clark
.
Bibliography
:
490
.
---
Photo Gallery
---
---
XMC-2 Suit
Credit: USAF
---
---
XMC-2 Suit
Credit: USAF
---
---
MC-2
Bill Dana in MC-2 suit with X-15
Credit: NASA
---
---
MC-2
Neil Armstrong in MC-2 suit with X-15
Credit: NASA
---
---
---
Back to top of page
---
Home - Search - Browse - Alphabetic Index: 0- 1- 2- 3- 4- 5- 6- 7- 8- 9
A- B- C- D- E- F- G- H- I- J- K- L- M- N- O- P- Q- R- S- T- U- V- W- X- Y- Z
---
© 1997-2019 Mark Wade - Contact
© / Conditions for Use
---