Home - Search - Browse - Alphabetic Index: 0- 1- 2- 3- 4- 5- 6- 7- 8- 9
A- B- C- D- E- F- G- H- I- J- K- L- M- N- O- P- Q- R- S- T- U- V- W- X- Y- Z
---
MB-60
---
Part of LE-5 engine
---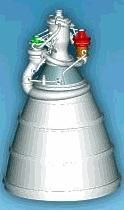 MB-60
Credit: Boeing / Rocketdyne
Rocketdyne LOx/LH2 rocket engine. Design 2004. Mitsubishi / Boeing joint project for an engine for Delta IV cryogenic upper stages. Expander bleed, pump-fed.
AKA: MB-XX;RS-73. Status: Design 2004. Date: 1999. Thrust: 266.70 kN (59,957 lbf). Unfuelled mass: 591 kg (1,302 lb). Specific impulse: 467 s. Height: 3.30 m (10.80 ft).
Boeing's Rocketdyne Division (USA) and Mitsubishi Heavy Industries (Japan) had announced on 14 February 2000 their agreement to jointly design and develop the MB-XX family of high-power cryogenic upper-stage engines for Boeing's Delta-4 and Japan's H-2A launch vehicles. In 2005 the MB-XX was being demonstrated on funding from Boeing and Mitsubishi Heavy Industries for potential application to the Vision for Space Exploration launch vehicle or upgrades to today's EELVs.
Engine: 591 kg (1,302 lb).
---
---
Country
:
Japan
.
Propellants
:
Lox/LH2
.
Agency
:
Rocketdyne
.
---
---
Back to top of page
---
Home - Search - Browse - Alphabetic Index: 0- 1- 2- 3- 4- 5- 6- 7- 8- 9
A- B- C- D- E- F- G- H- I- J- K- L- M- N- O- P- Q- R- S- T- U- V- W- X- Y- Z
---
© 1997-2019 Mark Wade - Contact
© / Conditions for Use
---