Home - Search - Browse - Alphabetic Index: 0- 1- 2- 3- 4- 5- 6- 7- 8- 9
A- B- C- D- E- F- G- H- I- J- K- L- M- N- O- P- Q- R- S- T- U- V- W- X- Y- Z
---
Manned Venus Orbiting Mission
---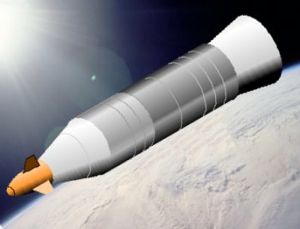 Venus Manned SC
Manned Venus Orbiting Mission
Credit: NASA
American manned Venus orbiter. A 1967 a NASA study examined requirements for a manned Venus orbiter. It concluded such a mission could be mounted by 1975 using Apollo technology.
Status: Study 1967. Gross mass: 54,400 kg (119,900 lb). Height: 28.00 m (91.00 ft). Diameter: 6.90 m (22.60 ft).
The study looked at a manned orbiting stopover round-trip mission to Venus in the 1975 to 1980 time period. A typical trip in 1980 had the following characteristics:
Total trip time: 565 days
Stay time at Venus: 40 days
Earth atmosphere entry velocity: 47,000 fps
Venus parking orbit: Periapase, 1.1 Venus radii; Apoapse: 20.9 Venus radii.
Time below 3 Venus radii: 2 days
Initial weight in Earth orbit with Apollo level of technology: 800,000 to 1.4 million pounds depending on launch opportunity and mission profile.
Essential to achieving low initial weights was a highly elliptical (e=0.9) parking orbit at Venus.
The elliptic parking orbit might adversely affect information gathering. Further study of the best tradeoffs between parking orbit ellipticity , stay time at Venus, and weight of observation equipment was required.
A Venus mission could be accomplished using Apollo level technology. S II stages could possibly be used for the Earth departure maneuver.
One new stage using Earth-storable propellants was required for the Venus arrival and departure maneuvers.
While the Venus orbiting mission could be accomplished using the Apollo level of technology, reductions in weight were possible using advanced propulsion. For example, using a nuclear rocket stage for the Earth departure maneuver could reduce the initial gross weight by 30 percent. If, in addition, OF2-CH4 stages were used for the maneuvers to arrive and depart Venus, a total weight reduction of 50% was possible.
A single vehicle design for the 1980 launch opportunity could accomplish the Venus mission in any other synodic period.
To accomplish a Mars orbiting mission in the easiest year would require a vehicle 70% heavier than that for the Venus orbiting mission in the most difficult year. The disparity could be much larger in other years.
The manned Venus spacecraft had a total mass of 120,000 pounds, further broken down as follows:
Earth Re-entry vehicle (included crew and stored data - the mass matches an Apollo CM, but the sketch of the design shows a lifting body with two vertical stabilizers): 14,000 lbs
Life Support module: 66,000 lbs + 50 lbs/day consumables
Scientific payload to Venus orbit: 30,000 lbs
Venus atmospheric entry probes:10,000 lbs
---
---
Family
:
Venus
.
Country
:
USA
.
Bibliography
:
2034
.
---
Photo Gallery
---
---
Venus Manned SC
Manned Venus Orbiting Mission
Credit: NASA
---
---
---
Back to top of page
---
Home - Search - Browse - Alphabetic Index: 0- 1- 2- 3- 4- 5- 6- 7- 8- 9
A- B- C- D- E- F- G- H- I- J- K- L- M- N- O- P- Q- R- S- T- U- V- W- X- Y- Z
---
© 1997-2019 Mark Wade - Contact
© / Conditions for Use
---