---

Priboy
Credit: © Mark Wade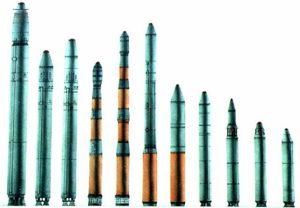 ICBM-Derived LVs
The range of launch vehicles derived from decommissioned ballistic missiles offered for sale by Russia after the cold war.
Credit: © Mark Wade
Russian orbital launch vehicle. Launch vehicle using the 1st stage of the SS-N-20 SLBM topped by an SS-N-23 SLBM (RSM-52+RSM-54). Liftoff mass 104 tonnes. Can be launched from stationary or mobile platforms.
LEO Payload: 2,400 kg (5,200 lb) to a 200 km orbit.
Status: Design 1993.
Payload: 2,400 kg (5,200 lb).
Apogee: 200 km (120 mi).

More... - Chronology...
---
---
---
Associated Countries
---
See also
---
Associated Manufacturers and Agencies
---
Home - Browse - Contact
© / Conditions for Use
---