---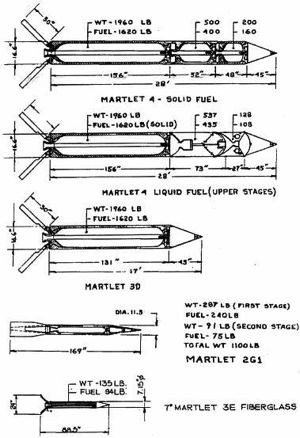 Martlet-2, 3, 4
A Brief History of the HARP Project

Martllet 2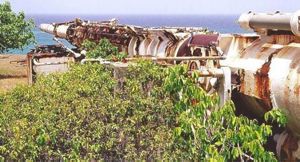 Project HARP 16 inch
Used with permission of
Stephen E. Mendes
- visit his
Barbados Photo Gallery
Credit: © Stephen E. Mendes

Project HARP 16 inch
Used with permission of
Stephen E. Mendes
- visit his
Barbados Photo Gallery
Credit: © Stephen E. Mendes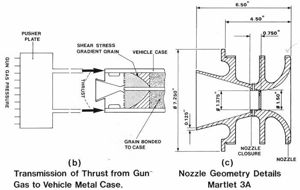 Martlet 3A detail

Martlet 4 - Solid

Martlet 4 - Liquid
Canadian gun-launched orbital launch vehicle. In 1962-1967 Canada's Gerard Bull led development of the Martlet system for gun-launched access to space. The program was cancelled before the objective of gun launch to orbit was attained.
Even after the rocket established its primacy as a method of accessing space, Gerald Bull of the Canadian Armament and Research Development Establishment began a life-long struggle to use guns for cheap access to space.
In the 1950's Bull pioneered the use of gun-fired models as an economical approach to study supersonic aerodynamics. The model was fitted with a wooden shell, or sabot, that matched the diameter of the gun barrel. After leaving the barrel the sabot would fall away and the model would continue, with high-speed cameras recording its behaviour in flight.
By 1961 Bull had expanded his concept and obtained a $10 million joint contract from the US and Canadian Defence Departments for a High Altitude Research Program (HARP). This was to prove the feasibility of using large guns for launch of scientific and military payloads on sub-orbital and orbital trajectories.
For long range shots a range was established at Barbados, where the payloads could be sent eastward over the Atlantic. A surplus 125 tonne US Navy 16 inch gun was used as the launcher. The standard 20 m barrel was extended to 36 m, and converted to a smooth-bore. In 1962 - 1967 Bull launched over 200 atmospheric probes to altitudes of up to 180 km.
By this time relations between Canada and the United States were strained because of the Viet Nam war. Canada terminated the project.
Success Rate: 100.00%. Launch data is: incomplete.
Status: Retired 1966.
First Launch: 1963.01.01.
Last Launch: 1966.11.20.
Number: 37 .

More... - Chronology...
---
---
---
Associated Countries
---
See also
---
Associated Manufacturers and Agencies
---
Bibliography
---
Martlet Chronology
---
1967 June 30 -
.
LV Family
:
Martlet
.
Launch Vehicle
:
Martlet
.
---
1968 October 11 -
. 15:17 GMT - .
Launch Site
:
Wallops Island
.
Launch Complex
:
Wallops Island LA2
.
Launch Vehicle
:
Martlet
.
LV Configuration
: EXAMETNET W 104.
---
Home - Browse - Contact
© / Conditions for Use
---