---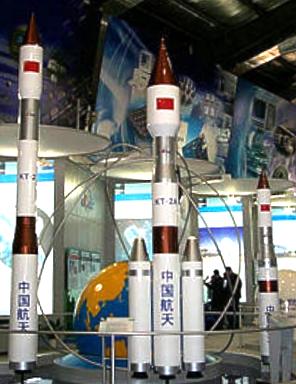 KT-2 & KT-2A
Heavy all-solid propellant Chinese launch vehicle. Model first displayed at Wuzhai in the fall of 2002. Consists of two parallel first-stage booster motors derived new the first stage motor of the KT-1, a larger-diameter core second stage motor like that of the KT-2, a new larger-diameter third stage motor, and an enormous new fairing. All figures are rough estimates.
LEO Payload: 2,000 kg (4,400 lb) to a 500 km orbit at 98.00 degrees.
AKA: SLV-2A.
Status: Development ended 2002.
Gross mass: 80,000 kg (176,000 lb).
Payload: 2,000 kg (4,400 lb).
Height: 30.00 m (98.00 ft).
Diameter: 2.70 m (8.80 ft).
Span: 6.70 m (21.90 ft).
Apogee: 500 km (310 mi).

More... - Chronology...
---
---
---
Associated Countries
---
See also
---
Associated Manufacturers and Agencies
---
Home - Browse - Contact
© / Conditions for Use
---