---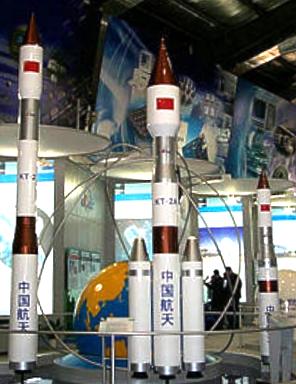 KT-2 & KT-2A
Intermediate all-solid propellant Chinese launch vehicle. Model first displayed at Wuzhai in the fall of 2002. Evidently consists of new large diameter first stage motor, topped by the first two stages of the basic KT-1 vehicle. All figures are rough estimates.
LEO Payload: 800 kg (1,760 lb) to a 500 km orbit at 98.00 degrees.
AKA: SLV-2.
Status: Development ended 2002.
Gross mass: 40,000 kg (88,000 lb).
Payload: 800 kg (1,760 lb).
Height: 35.00 m (114.00 ft).
Diameter: 2.70 m (8.80 ft).
Apogee: 500 km (310 mi).

More... - Chronology...
---
---
---
Associated Countries
---
See also
---
Associated Manufacturers and Agencies
---
Home - Browse - Contact
© / Conditions for Use
---