---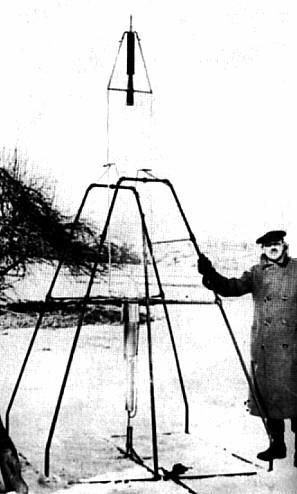 Goddard First Rocket
The world's first liquid fuel rocket.
Robert H. Goddard was the father of American rocketry. In a series of rockets flown between World War I and World War II, he solved all of the fundamental problems of guided liquid propellant rockets.
After his experiments with liquid fueled rockets alarmed the local authorities in Massachusetts, he was sponsored by Guggenheim and Charles Lindbergh to continue his experiments in Roswell, New Mexico. Secretive, working in isolation, unwilling to work in the necessary large industrial teams required for the new technology, he solved all the fundamental problems of guided rockets - but his work represented a dead end. Parallel work by Von Braun in Germany and at the Jet Propulsion Laboratory in Pasadena duplicated his discovereis and led to post-war rocketry in Russia, Europe, and America.
Success Rate: 100.00%. Launch data is: complete.
Status: Retired 1941.
First Launch: 1926.03.16.
Last Launch: 1941.05.08.
Number: 34 .

More... - Chronology...
---
---
---
Associated Countries
---
See also
---
Associated Manufacturers and Agencies
---
Bibliography
Emme, Eugene M, Aeronautics and Astronautics: An American Chronology of Science and Technology in the Exploration of Space 1915-1960, NASA, 1961. Web Address when accessed: here.
Goddard, Robert H, Collected Papers of Robert H Goddard,
---
Home - Browse - Contact
© / Conditions for Use
---