---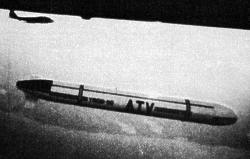 M110
American intermediate range cruise missile. Losing design in Sea-Launched Cruise Missile competition. Nuclear warhead version with warhead mass of 120 kg.
Standard warhead: 450 kg (990 lb). Boost Propulsion: Solid rocket. Maximum speed: 970 kph (600 mph).
Historical Essay © Andreas Parsch
LTV BGM-110
The ZBGM-110A was one of the two finalists in the U.S. Navy's SLCM (Submarine-Launched Cruise Missile) competition of 1974-76. The other one was the General Dynamics ZBGM-109A, q.v. for further details about the SLCM program. The first attempt in February 1976 to launch a YBGM-110A prototype from a torpedo tube failed because of a tube malfunction, and on the second attempt, the missile's wing failed to deploy. Because the YBGM-109A had performed flawlessly on two launches, and was the less risky overall design, the U.S. Navy declared the BGM-109 the winner of the SLCM competition in March 1976, thus ending the BGM-110 development.
The YBGM-110A was powered by a Teledyne CAE Model 471-11DX turbofan engine and a solid-propellant rocket booster for launch. An unusual feature was its one-piece fiber-glass wing, which was stored longitudinally in the fuselage, and pivoted through 90° to protrude through slots high on the fuselage sides. The tail surfaces were three curved fins, which lay flush on the round fuselage before deployment.
Before the BGM-110 development program was cancelled, the designations YBGM-110B (for an anti-ship missile, equivalent in purpose to the BGM-109B) and YAGM-110A (for an ALCM version) had been reserved for projected variants.
Specifications
Note: Data given by several sources show slight variations. Figures given below may therefore be inaccurate!
Data for YBGM-110A:
Length
5.43 m (17 ft 10 in) (w-o booster)
6.25 m (20 ft 6 in) (incl. booster)
Wingspan
3.20 m (10 ft 6 in)
Diameter
53 cm (21 in)
Weight
?
Speed
Mach 0.7
Range
> 2400 km (1500 miles)
Propulsion
Teledyne CAE Model 471-11DX turbofan
Booster: Solid-propellant rocket
Warhead
W-80-0 thermonuclear (5-200 kT)
Main Sources
[1] Kenneth P. Werrell: "The Evolution fo the Cruise Missile", Air University Press, 1985
AKA: BGM-110; Tomahawk.
Status: Cancelled 1976.
Gross mass: 1,450 kg (3,190 lb).
Payload: 450 kg (990 lb).
Height: 6.40 m (20.90 ft).
Diameter: 0.52 m (1.70 ft).
Span: 3.20 m (10.40 ft).
Thrust: 2.64 kN (593 lbf).

More... - Chronology...
---
---
---
Associated Countries
---
See also
---
Associated Manufacturers and Agencies
---
Home - Browse - Contact
© / Conditions for Use
---