---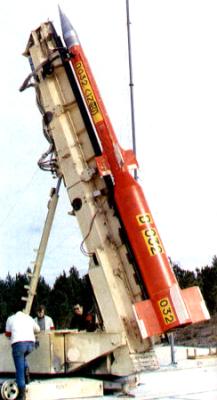 Dragon
Credit: via Jean-Jacques Serra
Family of sounding rockets, developed by Sud Aviation, with the only or upper stage being variants of the Belier stage powered by a Jericho rocket motor. These were the most significant series of French civilian suborbital rockets. Manufacturing licenses were sold to India and Pakistan, becoming the basis of their rocket industries.
Sud Aviation's solid propellant sounding rockets, developed for CNET (Centre National d'Etudes des Telecommunications), used rocket motors developed for France's cancelled surface-to-air missile programs of the 1950's. An improved version of the Jericho 1 motor, originally developed as the sustainer stage of the MATRA R422 missile, was used for the single stage Belier rocket. The rocket was spin stabilised by small solid rocket engines on the four fins.
Failures: 18. Success Rate: 94.34%. First Fail Date: 1962-05-09. Last Fail Date: 1976-10-14. Launch data is: complete.
Status: Retired 1986.
Gross mass: 400 kg (880 lb).
Height: 3.80 m (12.40 ft).
Diameter: 0.31 m (1.01 ft).
Apogee: 109 km (67 mi).
First Launch: 1961.05.24.
Last Launch: 1986.03.07.
Number: 318 .

More... - Chronology...
---
---
---
Associated Countries
---
See also
---
Bibliography
---
Home - Browse - Contact
© / Conditions for Use
---