---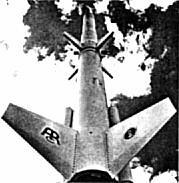 Athena Rocket
Athena Sounding Rocket
American orbital launch vehicle. Privately funded family of solid propellant satellite launch vehicles. Originally known as LMLV (Lockheed-Martin Launch Vehicle); LLV (Lockheed Launch Vehicle). Sales did not develop as hoped by the company after the MEO-satellite bubble burst in the 1990's.
Failures: 2. Success Rate: 71.43%. First Fail Date: 1995-08-15. Last Fail Date: 1999-04-27. Launch data is: complete.
Status: Retired 2001.
First Launch: 1995.08.15.
Last Launch: 2001.09.30.
Number: 7 .

More... - Chronology...
---
---
---
Associated Countries
---
Associated Spacecraft
MicroSat-70 British technology satellite. 14 launches, 1981.10.06 (Oscar 9) to 2002.11.28 (Picosat). Basic Surrey Microsat bus. More...
---
See also
---
Associated Manufacturers and Agencies
---
Bibliography
McDowell, Jonathan, Jonathan's Space Home Page (launch records), Harvard University, 1997-present. Web Address when accessed: here.
Krebs, Gunter, Gunter's Space Page, University of Frankfurt, 1996. Web Address when accessed: here.
Isakowitz, Steven J,, International Reference to Space Launch Systems Second Edition, AIAA, Washington DC, 1991 (succeeded by 2000 edition).
Wilson, Andrew, editor,, Jane's/Interavia Space Directory, Jane's Information Group, Coulsdon, Surrey, 1992 et al.
NASA GSFC Orbital Parameters,
National Space Science Center Planetary Page, As of 19 February 1999.. Web Address when accessed: here.
---
Home - Browse - Contact
© / Conditions for Use
---