---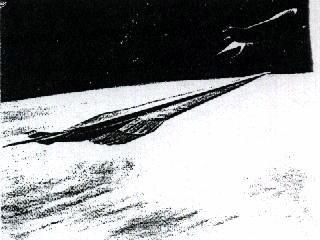 AACB Class 3 Staging
Credit: NASA
American winged orbital launch vehicle. The AACB Class III launch vehicle was an advanced concept use air-breathing stages, but still requiring two stages to achieve orbit. The joint NASA/USAF panel concluded that the technology did not yet exist to develop this concept, so it was only regarded as an option by 1982 at the earliest.
The vehicle would have a gross mass of 450,000 kg and a payload to orbit of 16,000 kg. Stage 1 would be powered by a turbofan-ramjet and have a takeoff mass of 306,000 kg; stage 2 would be powered by a scramjet and rocket and have an mass of 132,000 kg. The evaluation used a design investigated by Lockheed in 1965-66.
LEO Payload: 15,876 kg (35,000 lb).
Status: Study 1966.
Gross mass: 306,175 kg (675,000 lb).
Payload: 15,876 kg (35,000 lb).

More... - Chronology...
---
---
---
Associated Countries
---
See also
---
Associated Manufacturers and Agencies
---
Bibliography
Jenkins, Dennis R,, Space Shuttle: The History of the National Space Transportation System : The First 100 Missions, Third edition, Voyageur Press, 2001.
---
Home - Browse - Contact
© / Conditions for Use
---