Home - Search - Browse - Alphabetic Index: 0- 1- 2- 3- 4- 5- 6- 7- 8- 9
A- B- C- D- E- F- G- H- I- J- K- L- M- N- O- P- Q- R- S- T- U- V- W- X- Y- Z
---
Little John
---
Part of Honest John
---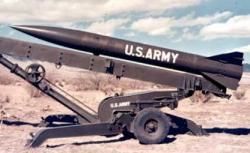 Little John
Credit: via Andreas Parsch
American tactical ballistic rocket. The Little John was the smallest nuclear-capable rocket the U.S. Army ever deployed. Studies to develop a lightweight rocket based on the M31/MGR-1 Honest John to give airborne Army units a nuclear capability began in 1953 under the name Honest John Junior. After preliminary studies by Douglas during 1954, the development program - renamed as Little John - was officially started at Redstone Arsenal in June 1955.
AKA: M47;M47 + M32, M51 + M34, M15 motors;M47/M51;M51;MGR-3;MGR-3A;W45. Status: Retired 1969. Payload: 110 kg (240 lb). Thrust: 240.20 kN (53,999 lbf). Gross mass: 354 kg (780 lb). Height: 4.42 m (14.50 ft). Diameter: 0.30 m (0.98 ft). Span: 0.58 m (1.90 ft).
The US Army conceived a requirement to equip its airborne units with nuclear weapons in 1953. Development of a nuclear-tipped unguided rocket started in June 1955, with first launch a year later. Firings of production versions began in December 1958, with first deployment in January 1961. The rocket was retired in August 1969, considered redundant to nuclear artillery. Little John was an air-transportable, unguided rocket powered by an XM26 solid-fuel rocket motor, and armed with a nuclear 1-10 kT W-45 nuclear fission or conventional warhead. The missile was delivered fully assembled to the firing units, either by helicopter, or driven on its M34 towed launcher.
Development Cost $: 51.900 million. Recurring Price $: 0.014 million in 1960 dollars. Flyaway Unit Cost 1985$: 0.008 million in 1960 dollars. Maximum range: 18 km (11 mi). Number Standard Warheads: 1. Standard warhead: W45. Warhead yield: 15 KT. Boost Propulsion: Solid rocket. Maximum speed: 2,600 kph (1,600 mph). Initial Operational Capability: 1960. Total Number Built: 2404. Total Development Built: 61. Total Production Built: 2343.
---
More at: Little John.
---
Family
:
tactical ballistic
.
Country
:
USA
.
Agency
:
Emerson Electric
.
---
---
Back to top of page
---
Home - Search - Browse - Alphabetic Index: 0- 1- 2- 3- 4- 5- 6- 7- 8- 9
A- B- C- D- E- F- G- H- I- J- K- L- M- N- O- P- Q- R- S- T- U- V- W- X- Y- Z
---
© 1997-2019 Mark Wade - Contact
© / Conditions for Use
---