Home - Search - Browse - Alphabetic Index: 0- 1- 2- 3- 4- 5- 6- 7- 8- 9
A- B- C- D- E- F- G- H- I- J- K- L- M- N- O- P- Q- R- S- T- U- V- W- X- Y- Z
---
KVRB
---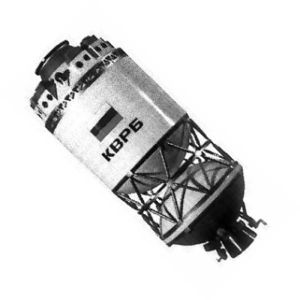 KVRB stage
Credit: © Mark Wade

Russian space tug. Study 1992. Upper stage / space tug - design 1992. High energy upper stage for Proton, never put into production.

Status: Study 1992. Thrust: 73.58 kN (16,541 lbf). Gross mass: 19,500 kg (42,900 lb). Unfuelled mass: 3,000 kg (6,600 lb). Specific impulse: 461 s. Height: 7.00 m (22.90 ft). Diameter: 3.80 m (12.40 ft). Span: 3.80 m (12.40 ft).

KVRB cryogenic kick stage was to be completed by the end of 1995 (competing against motor by CADB). However no production decision ever taken. Technology instead used in 12KRB cryogenic upper stage for the Indian GSLV launcher.

Unit Cost $: 30.000 million.
---
---
Family: Space Tugs. Country: Russia. Engines: RD-56M. Propellants: Lox/LH2.
---
Photo Gallery
---
---
RD-0225 Almaz engine
RD-0225 main propulsion engine for Almaz space station
Credit: © Dietrich Haeseler
---
---
8K84 back
Credit: © Mark Wade
---
---
---
Home - Search - Browse - Alphabetic Index: 0- 1- 2- 3- 4- 5- 6- 7- 8- 9
A- B- C- D- E- F- G- H- I- J- K- L- M- N- O- P- Q- R- S- T- U- V- W- X- Y- Z
---
© 1997-2017 Mark Wade - Contact
© / Conditions for Use
---