Encyclopedia Astronautica
Home - Search - Browse - Alphabetic Index: 0- 1- 2- 3- 4- 5- 6- 7- 8- 9
A- B- C- D- E- F- G- H- I- J- K- L- M- N- O- P- Q- R- S- T- U- V- W- X- Y- Z
---
---
J-2T-250K
---
Part of J-2 Family
---
---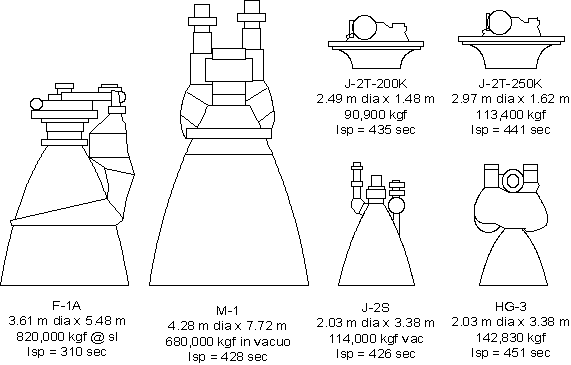 Advanced Engines
Advanced Engines planned for uprated Saturn and Nova boosters
Credit: © Mark Wade
---
Rocketdyne LOx/LH2 rocket engine. Study 1967. Proposed for later versions of Saturn V. Toroidal aerospike plug nozzle version of J-2.

Status: Study 1967. Thrust: 1,111.60 kN (249,898 lbf). Specific impulse: 441 s. Specific impulse sea level: 290 s. Burn time: 348 s. Height: 1.25 m (4.10 ft). Diameter: 2.97 m (9.74 ft).

Thrust (sl): 731.000 kN (164,335 lbf). Thrust (sl): 74,544 kgf.

Country: USA. Launch Vehicles: Saturn MLV-V-1/J-2T/250K, Saturn MLV-V-4(S)-B. Propellants: Lox/LH2. Stages: Saturn MS-II-1-J-2T-250K. Agency: Rocketdyne.
---
---
Home - Search - Browse - Alphabetic Index: 0- 1- 2- 3- 4- 5- 6- 7- 8- 9
A- B- C- D- E- F- G- H- I- J- K- L- M- N- O- P- Q- R- S- T- U- V- W- X- Y- Z
---
© 1997-2016 Mark Wade - Contact
© / Conditions for Use
---