Home - Search - Browse - Alphabetic Index: 0- 1- 2- 3- 4- 5- 6- 7- 8- 9
A- B- C- D- E- F- G- H- I- J- K- L- M- N- O- P- Q- R- S- T- U- V- W- X- Y- Z
---
HARP Gun
---
---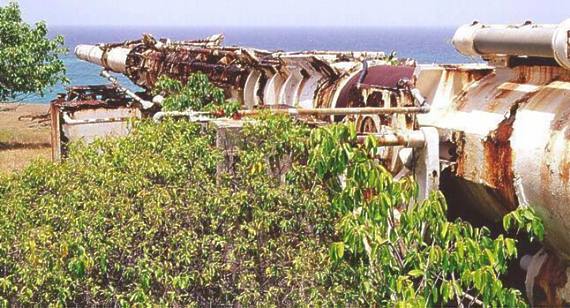 Project HARP 16 inch
Used with permission of Stephen E. Mendes - visit his Barbados Photo Gallery
Credit: © Stephen E. Mendes
---
Guncotton propellant rocket stage. The HARP gun, a converted 16 inch naval gun, was used during the 1960's to launch the Martlet series of rocket-launched space probes.

Status: Development ended 1966. Payload: 1,300 kg (2,800 lb). Thrust: 127,000.00 kN (28,550,000 lbf). Gross mass: 450 kg (990 lb). Unfuelled mass: 1.00 kg (2.20 lb). Specific impulse: 365 s. Specific impulse sea level: 43 s. Burn time: 0.0100 s. Height: 36.59 m (120.04 ft). Diameter: 0.42 m (1.37 ft). Span: 0.42 m (1.37 ft). Location: 1072.

Using 450 kg of M8M propellant, with optimum web size, and a maximum muzzle pressure of 4100 atmospheres, the gun had the following performance:
250 kg projectile accelerated at 13,000 peak G's to 2,300 m/s muzzle velocity
500 kg projectile accelerated at 9,000 peak G's to 1,900 m/s muzzle velocity
750 kg projectile accelerated at 6,500 peak G's to 1,680 m/s muzzle velocity
1,000 kg projectile accelerated at 5,000 peak G's to 1,550 m/s muzzle velocity
'Specific impulse' indicated here is effective specific impulse for a 750 kg projectile. Due to muzzle dynamics, value differs for other masses of projectile. Diameter and length are that for the gun bore.

Release velocity: 1,072 m/s (3,517 ft/sec). Release altitude: 27 m (87 ft). Release conditions: 298 m/s losses from muzzle exit velocity..
---
---
Country: Canada. Engines: 16 in gun. Launch Vehicles: Martlet 4, Martlet 2G-1, Martlet 3D. Propellants: Guncotton.
---
Photo Gallery
---
---
---
---
| | |
| --- | --- |
| | HARP 16 inch gun |
---
---
---
Home - Search - Browse - Alphabetic Index: 0- 1- 2- 3- 4- 5- 6- 7- 8- 9
A- B- C- D- E- F- G- H- I- J- K- L- M- N- O- P- Q- R- S- T- U- V- W- X- Y- Z
---
© 1997-2017 Mark Wade - Contact
© / Conditions for Use
---