Home - Search - Browse - Alphabetic Index: 0- 1- 2- 3- 4- 5- 6- 7- 8- 9
A- B- C- D- E- F- G- H- I- J- K- L- M- N- O- P- Q- R- S- T- U- V- W- X- Y- Z
---
G-1 engine
---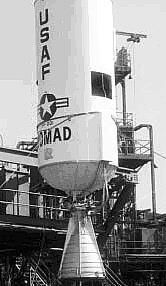 G-1
Credit: Boeing / Rocketdyne

Rocketdyne exotic LF2/Hydrazine rocket engine. Atlas upper stage. Developed 1960's. Engine developed for replacement of Agena upper stage in late 1950's. Not flown due to toxicity of propellants. NOMAD Upper Stage System. Pressure-fed.

AKA: G-1;Nomad. Status: Developed 1960's. Date: 1958. Thrust: 53.50 kN (12,027 lbf). Specific impulse: 357 s.
---
---
Family: Exotic. Country: USA. Propellants: LF2/Hydrazine. Agency: Rocketdyne.
---
---
Home - Search - Browse - Alphabetic Index: 0- 1- 2- 3- 4- 5- 6- 7- 8- 9
A- B- C- D- E- F- G- H- I- J- K- L- M- N- O- P- Q- R- S- T- U- V- W- X- Y- Z
---
© 1997-2017 Mark Wade - Contact
© / Conditions for Use
---