---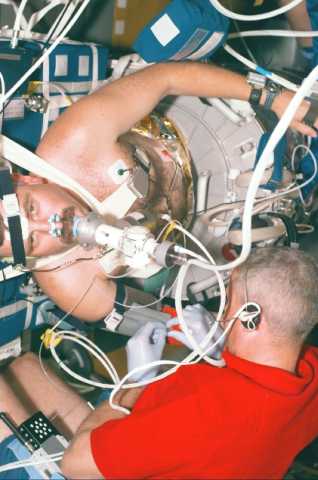 STS-90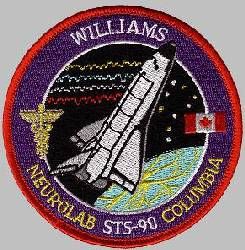 Williams Dave
Credit:
www.spacefacts.de
- www.spacefacts.de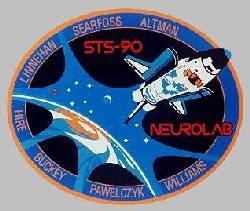 STS-90
Credit:
www.spacefacts.de
- www.spacefacts.de
Crew: Altman, Buckey, Hire, Linnehan, Pawelczyk, Searfoss, Williams Dave. Spacelab Long Module / Neurolab mission. Backup crew: Mukai, Dunlap.
Columbia rolled out to pad 39B on March 23. Payloads:
Spacelab transfer tunnel
Spacelab Long Module, with Neurolab experiments for the following life science studies:

Chronic Recording of Otolith Nerves in Microgravity
Development of the Aortic Baroreflex under Conditions of Microgravity
Neural-Thyroid Interaction on Skeletal Isomyosin Expression in OG
Spatial Orientation of the Vestibulo-Ocular Reflex and Velocity Storage
Autonomic Neuroplasticity in Weightlessness

Extended Duration Orbiter pallet
Two Get Away Special beams with canisters G-197, G-467, G-772 (Colorado's COLLIDE experiment, which collided small particles into each other to simulate the formation of planets and rings).
The Neurolab mission was managed by NASA-Johnson at Houston, unlike earlier Spacelab flights which were NASA-Marshall/Huntsville's responsibility. Landed at Kennedy Space Center May 3 1998.
NASA Official Mission Summary:
STS-90
(Neurolab)
Columbia
Pad B
90th Shuttle mission
25th flight of OV-102
43rd KSC landing
Final Spacelab module mission
First KSC Astronaut
Crew:
Richard A. Searfoss, Commander (3rd Shuttle flight)
Scott D. Altman, Pilot (1st)
Richard M. Linnehan, Payload Commander and Mission Specialist (2nd)
Dafydd "Dave" Rhys Williams, Mission Specialist (1st), (Canadian Space Agency)
Kathryn P. "Kay" Hire, Mission Specialist (1st)
Jay C. Buckey, Payload Specialist (1st)
James A. "Jim" Pawelczyk, Payload Specialist (1st)
Orbiter Preps (move to):
OPF - Dec. 5, 1997
VAB - March 16, 1998
Pad - March 23, 1998
Launch:
April 17, 1998, 2:19:00 p.m. EDT. Launch postponed on April 16 for 24 hours due to difficulty with one of Columbia's two network signal processors, which format data and voice communications between the ground and the Space Shuttle. Network signal processor 2 was replaced, and liftoff on April 17 occurred on time.
Landing:
May 3, 1998, 12:08:59 p.m. EDT, Runway 33, Kennedy Space Center, Fla. Rollout distance: 9,998 feet (3,047 meters). Rollout time: 58 seconds. Mission duration: 15 days, 21 hours, 49 minutes, 59 seconds. Landed on orbit 256, on first KSC opportunity for day. Logged 6.375 million statute miles. Marked 14th consecutive Shuttle landing at KSC and 21st in the last 22 missions.
Mission Highlights:
Neurolab's 26 experiments targeted one of the most complex and least understood parts of the human body – the nervous system. Primary goals were to conduct basic research in neurosciences and expand understanding of how the nervous system develops and functions in space. Test subjects were crew members and rats, mice, crickets, snails and two kinds of fish. Cooperative effort of NASA, several domestic partners and the space agencies of Canada (CSA), France (CNES) and Germany (DARA), as well as the European Space Agency (ESA) and the National Space Development Agency of Japan (NASDA).
Most experiments conducted in pressurized Spacelab long module located in Columbia's payload bay. This was 16th and last scheduled flight of the ESA-developed Spacelab module although Spacelab pallets will continue to be used on the International Space Station. Research conducted as planned, with the exception of the Mammalian Development Team, which had to reprioritize science activities because of the unexpected high mortality rate of neonatal rats on board.
Other payloads included the Shuttle Vibration Forces experiment, the Bioreactor Demonstration System-04, and three Get- Away Special (GAS) canister investigations.
Working with engineers on the ground a week into the flight, the on-orbit crew used aluminum tape to bypass a suspect valve in the Regenerative Carbon Dioxide Removal System that had threatened to cut short the mission.
Mission Management Team considered, but decided against, extending the mission one day because the science community indicated an extended flight was not necessary and weather conditions were expected to deteriorate after planned landing on Sunday, May 3.
STS-90 Mission Specialist Kay Hire was Kennedy Space Center's first employee to be chosen as an astronaut candidate.
AKA: Columbia.
First Launch: 1998.04.17.
Last Launch: 1998.05.03.
Duration: 15.91 days.

More... - Chronology...
---
---
---
Associated People
Williams, Dave Williams, Dr Dafydd Rhys 'Dave' (1954-) Canadian physician mission specialist astronaut. Flew on STS-90, STS-118. More...
---
Associated Countries
---
Associated Spacecraft
---
See also
---
Associated Manufacturers and Agencies
NASA Houston American agency overseeing development of rockets and spacecraft. Houston, Houston, USA. More...
---
Associated Programs
STS The Space Transportation System (Space Shuttle) was conceived originally as a completely reusable system that would provide cheap, routine access to space and replace all American and civilian military launch vehicles. Crippled by technological overreach, political compromise, and budget limitations, it instead ended up costing more than the expendable rockets it was to have replaced. STS sucked the money out of all other NASA projects for half a century. The military abandoned its use after the Challenger shuttle explosion in the 1980's. More...
---
Associated Launch Sites
Cape Canaveral America's largest launch center, used for all manned launches. Today only six of the 40 launch complexes built here remain in use. Located at or near Cape Canaveral are the Kennedy Space Center on Merritt Island, used by NASA for Saturn V and Space Shuttle launches; Patrick AFB on Cape Canaveral itself, operated the US Department of Defense and handling most other launches; the commercial Spaceport Florida; the air-launched launch vehicle and missile Drop Zone off Mayport, Florida, located at 29.00 N 79.00 W, and an offshore submarine-launched ballistic missile launch area. All of these take advantage of the extensive down-range tracking facilities that once extended from the Cape, through the Caribbean, South Atlantic, and to South Africa and the Indian Ocean. More...
---
STS-90 Chronology
---
1998 April 17 -
. 18:19 GMT - .
Launch Site
:
Cape Canaveral
.
Launch Complex
:
Cape Canaveral LC39B
.
LV Family
:
Shuttle
.
Launch Vehicle
:
Shuttle
.
LV Configuration
: Space Shuttle STS-90.
---
1998 May 3 -
.
---
Home - Browse - Contact
© / Conditions for Use
---