Home - Search - Browse - Alphabetic Index: 0- 1- 2- 3- 4- 5- 6- 7- 8- 9
A- B- C- D- E- F- G- H- I- J- K- L- M- N- O- P- Q- R- S- T- U- V- W- X- Y- Z
---
Feitian
---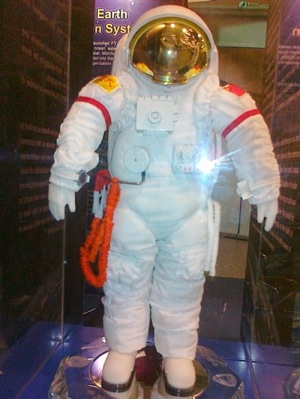 Feitian
Feitian space suit exhibited at UN exhibit, Vienna, 2011
Credit: © Mark Wade
Chinese space suit for extravehicular activity, operational 2008. Reverse-engineered copy of Russian Orlan suits purchased in . Many details different, new Chinese avionics and control systems, all-Chinese materials.
AKA: Orlan. Status: Operational 2008. Gross mass: 120 kg (260 lb).
In 2004 Russia sold to China nine Orlan-M flight-suits for $800,000 (three flight versions, two ground training versions, and four neutral buoyancy tank versions). In July of the same year development of a reverse-engineered Chinese version was authorized. Two flight suits were built, at a cost of $5 million each. Different in detail from the Russian suits, and using Chinese materials, the suits used purely Chinese digital communication, telemetry and data management systems, including the OLED display of the control panel. The most noticeable visible difference to Orlan was the larger visor. Autonomous life support span was four hours, half that of Orlan-M. Various difficulties were encountered in development, with the result that the suit was only qualified in June 2008, just three months before the flight of Shenzhou 7. Of the two suits built, one was left in the Shenzhou 7 orbital module, to burn up when it re-entered the atmosphere. The other was put on public display. Future suits will evidently use a purely indigenous design.
---
---
Family
:
Space Suits
.
Country
:
China
.
---
Photo Gallery
---
---
Feitian
Feitian space suit subsystems
---
---
---
Back to top of page
---
Home - Search - Browse - Alphabetic Index: 0- 1- 2- 3- 4- 5- 6- 7- 8- 9
A- B- C- D- E- F- G- H- I- J- K- L- M- N- O- P- Q- R- S- T- U- V- W- X- Y- Z
---
© 1997-2019 Mark Wade - Contact
© / Conditions for Use
---