---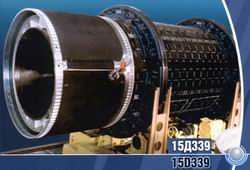 15D339
Credit: Yuzhnoye
Yuzhnoye. Tsurilnikov solid rocket engine. RT-23 stage II. Out of Production. The case-bound START composite solid propellant charge had a cylindrical-conical umbrella shape channel. The case was of organic fibre-wound plastic material.
The gimbaled engine nozzle partially intruded into the combustion chamber and had a nozzle extension for improved performance. Versions of the motor seem to have been manufactured by both Tsurilnikov in Russia and Yuzhnoye in the Ukraine. Length with the nozzle extended was 6.7 m.
Application: RT-23 stage II.
Status: Out of Production.
Height: 5.90 m (19.30 ft).
Diameter: 2.40 m (7.80 ft).
Thrust: 1,470.00 kN (330,460 lbf).
First Launch: 1976-85.

More... - Chronology...
---
---
---
Associated Countries
---
See also
---
Associated Launch Vehicles
---
Associated Manufacturers and Agencies
---
Associated Propellants
---
Bibliography
---
Associated Stages
---
Home - Browse - Contact
© / Conditions for Use
---