Home - Search - Browse - Alphabetic Index: 0- 1- 2- 3- 4- 5- 6- 7- 8- 9
A- B- C- D- E- F- G- H- I- J- K- L- M- N- O- P- Q- R- S- T- U- V- W- X- Y- Z
---
EMPIRE Lockheed
---
Part of American Mars Expeditions
---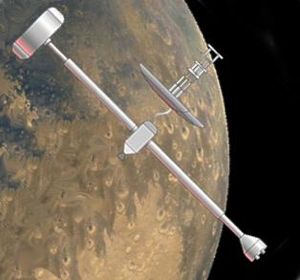 Empire
Credit: © Mark Wade
American manned Mars flyby. Study 1962. Lockheed's manned Mars flyby spacecraft design of 1962 had a total mass of 100 metric tons.
AKA: Early Manned Planetary - Interplanetary Roundtrip Expedition. Status: Study 1962. Thrust: 1.78 kN (401 lbf). Gross mass: 100,000 kg (220,000 lb). Specific impulse: 800 s. Height: 65.00 m (213.00 ft). Diameter: 3.00 m (9.80 ft).
Taking advantage of Apollo technology, it would be launched into low earth orbit with a single launch of a Saturn V booster. The 22-month mission would be launched toward Mars on 24 September 1974.
EMPIRE was the first series of Mars mission studies conducted under NASA's auspices. The goal of the studies was to identify mission alternatives and estimate spacecraft masses for initial manned Mars flyby and orbiter missions. The primary objective was to identify payload requirements for Nova, the series of super heavy lift launch vehicles planned after the Saturn series. A secondary objective was to identify stage and engine requirements for NERVA, the AEC/NASA nuclear thermal engine program. The Marshall Space Flight Center's Future Projects Office, led by Heinz Koelle, let contracts for the studies to industry in May 1962. Three contractors were selected: Aeronutronic, General Dynamics, and Lockheed.
In the Lockheed fly-by design, two flyby trajectory alternatives were considered. A high energy alternative would put the probe in a solar orbit with a perihelion inside the earth's orbit (with a Venus flyby where possible), then out to Mars, and back to intersect earth's orbit - total mission time 18 months. The lower-energy alternative would put the probe in an orbit that went from earth, past Mars, and out into the asteroid belt before returning to earth 22 months after launch. Lockheed proposed that the low energy path be used, and that the launch mass be further reduced by using a nuclear thermal rocket stage and aerodynamic braking on the return to earth. This would reduce total payload requirement to two Saturn V launches (somewhat at variance with the study's objective to justify and define the requirements for the follow-on Nova superbooster!)
Lockheed's preferred spacecraft design consisted of a rotating spacecraft in order to provide artificial gravity force on the crew during the long mission. The spacecraft would telescope out after boost toward Mars and separation from the nuclear trans-Mars injection stage. At one end of the boom would be a modified Apollo Command-Service Module (for re-entry into the earth's atmosphere at the end of the mission), at the other end would be a habitation module (living quarters during the transit). At the hub would be a large solar collector to drive a solar thermal power generating system, a radiation shelter, and the robot probes that would be dropped to the Martian surface during the flyby.
Crew Size: 3. Habitable Volume: 113.00 m3.
---
---
Family
:
Mars Expeditions
,
Mars flyby
.
Country
:
USA
.
Engines
:
Nerva-1
.
Propellants
:
Nuclear/LH2
.
Agency
:
Lockheed
.
Bibliography
:
49
,
591
.
---
Photo Gallery
---
---
Empire Comparison
Comparison of Empire designs, from left to right:
Credit: © Mark Wade
---
---
---
Back to top of page
---
Home - Search - Browse - Alphabetic Index: 0- 1- 2- 3- 4- 5- 6- 7- 8- 9
A- B- C- D- E- F- G- H- I- J- K- L- M- N- O- P- Q- R- S- T- U- V- W- X- Y- Z
---
© 1997-2019 Mark Wade - Contact
© / Conditions for Use
---