Home - Search - Browse - Alphabetic Index: 0- 1- 2- 3- 4- 5- 6- 7- 8- 9
A- B- C- D- E- F- G- H- I- J- K- L- M- N- O- P- Q- R- S- T- U- V- W- X- Y- Z
---
E-1
---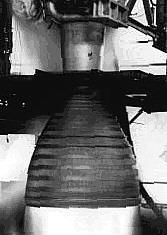 E-1
Credit: Boeing / Rocketdyne

Rocketdyne LOx/Kerosene rocket engine. Study 1957. Developed by USAF in late 1950's. Cancelled and decision to go direct to 1,500,000 lbf F-1 as next step. Booster applications. Gas generator, pump-fed.

Status: Study 1957. Date: 1957. Thrust: 1,884.59 kN (423,673 lbf). Specific impulse: 290 s. Specific impulse sea level: 260 s.

Thrust (sl): 1,689.600 kN (379,837 lbf). Thrust (sl): 172,300 kgf. Propellant Formulation: Lox/RP-1.
---
---
Country: USA. Launch Vehicles: Super-Jupiter. Propellants: Lox/Kerosene. Stages: Super-Jupiter-2, Super-Jupiter stage. Agency: Rocketdyne.
---
Photo Gallery
---
---
E-1 Engine
Credit: © Mark Wade
---
---
---
Home - Search - Browse - Alphabetic Index: 0- 1- 2- 3- 4- 5- 6- 7- 8- 9
A- B- C- D- E- F- G- H- I- J- K- L- M- N- O- P- Q- R- S- T- U- V- W- X- Y- Z
---
© 1997-2017 Mark Wade - Contact
© / Conditions for Use
---