Home - Search - Browse - Alphabetic Index: 0- 1- 2- 3- 4- 5- 6- 7- 8- 9
A- B- C- D- E- F- G- H- I- J- K- L- M- N- O- P- Q- R- S- T- U- V- W- X- Y- Z
---
DLB
---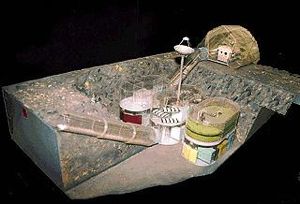 Zvezda / DLB base
Zvezda / DLB long-tern lunar base
Credit: Spetsmash

Long-Duration Lunar Base (Russian abbreviation). Soon after the beginning of the L3 project studies work also began on a lunar base to follow the initial single cosmonaut lunar landing. These studies were undertaken by Korolev's OKB-1 with Chief Designer Vladimir Pavlovich Barmin's GSKB SpetsMash (State Union Design Bureau of Special Machine-Building) as principal subcontractor. The project was known to SpetsMash as the 'Long-term Lunar Base' (DLB) and to OKB-1 as 'Zvezda'. Consideration was given to using the same elements in expeditions to other planets. Under the DLB studies SpetsMash defined purposes of the base, the principles of its construction, phases of its deployment and composition of its scientific and support equipment.

Zvezda would have utilized unmanned spacecraft designed by the Lavochkin OKB to conduct initial reconnaissance of the prospective moon base site. These would use lunar soil core drills to obtain samples of the soil and return them to earth for analysis, and Lunokhod rovers to survey the site. If the site was found to be satisfactory, these craft had radio beacons which would guide follow-on elements of the base to precision landings.

The manned elements apparently used the improved L3 complex (designed for the follow-on two man lunar landings) to ferry manned crews from earth orbit to lunar orbit and then from lunar orbit to the surface and back. The Block Sr LOX/LH2 stage would be used to insert the components of Zvezda into low lunar orbit. Ambitious articulated mobile nuclear-powered Lunokhod laboratories would take the cosmonauts from the landing sites on long-duration traverses of the lunar surface. The Lunokhods were equipped with core samplers and manipulators so that the crew could conduct collection of surface samples from within the pressurized cab without the need to always exit the ship and conduct surface operations in space suits.

Eventually a huge lunar base would be built up, using pressurized buried laboratory and living modules. These plans were very reminiscent of the US Army 'Project Horizon'. DLB work ended in May 1974 with the cancellation of the N1 launch vehicle upon which it relied.
---
---
---
---
Home - Search - Browse - Alphabetic Index: 0- 1- 2- 3- 4- 5- 6- 7- 8- 9
A- B- C- D- E- F- G- H- I- J- K- L- M- N- O- P- Q- R- S- T- U- V- W- X- Y- Z
---
© 1997-2017 Mark Wade - Contact
© / Conditions for Use
---