---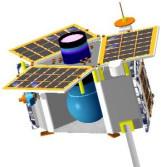 Snap
Credit: Surrey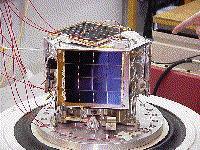 SSTL Nanosatellite
Credit: NASA
British technology satellite. One launch, 2000.06.28. Basic Surrey Nanosat bus.
With rapid advances in electronics and micro-electromechanical systems (MEMS), nanosatellites can execute sophisticated and important missions. SSTL and the University of Surrey's academic team developed the Surrey Nanosatellite Applications Platform (SNAP) as a practical platform for this new missions.
SNAP supported missions of 6 to 12 kg total mass with payloads of up to 4 kg. Yet within this small package, SSTL offered propulsion, attitude determination and control, on-board computing and communications options typical of larger missions.
The structure of SNAP was provided by three sets of modular electronic housings ('NanoTrays') formed around a triangular central bay. This central bay could host attitude actuators, propulsion units or payloads.
Equipped with GPS orbit determination, three-axis attitude control and a micro propulsion system, the SNAP platform was tailored to constellation and swarm missions that demanded dozens of inexpensive, yet capable, satellites.
SSTL launched the first SNAP platform, SNAP-1 in 2000, demonstrating the SNAP concept on a successful remote-inspection and formation flying mission.
AKA: SSTL-10.
Gross mass: 12 kg (26 lb).
Payload: 4.00 kg (8.80 lb).
First Launch: 2000.06.28.
Number: 1 .

More... - Chronology...
---
---
---
Associated Countries
---
See also
---
Associated Launch Vehicles
---
Associated Manufacturers and Agencies
---
Bibliography
---
Associated Launch Sites
---
SNAP Chronology
---
2000 June 28 -
. 10:37 GMT - .
Launch Site
:
Plesetsk
.
Launch Complex
:
Plesetsk LC132/1
.
LV Family
:
Kosmos 3
.
Launch Vehicle
:
Kosmos 11K65M
.
---
Home - Browse - Contact
© / Conditions for Use
---