---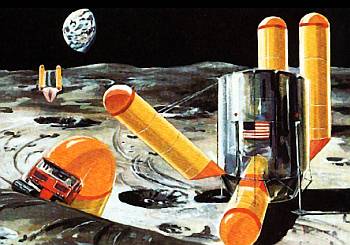 Project Selena
American manned lunar base. Study 1964. Bono's enormous ROMBUS booster could fly all the way to the lunar surface and back if low Earth orbit rendezvous and propellant transfer were used. He therefore proposed using the booster to establish a lunar base.
The fully loaded LH2 tanks would be transferred from ROMBUS tankers to the lunar landing ROMBUS, hence the need for pumping low-density hydrogen was circumvented. The tankers would also carry oxygen in their payload compartment which would be pumped to the lunar vehicle tank. Phil Bono felt ROMBUS might be able to compete on a cost basis with traditional specially developed expendable spacecraft such as Apollo, although the total launch weight would be higher since no weight-saving boosters were used.
Only two LEO tanker flights would be required for soft-landing a 4,536kg payload on the lunar surface. The empty spacecraft had a mass of 306.233t and the structure + tankage might be transformed into a lunar habitat. Nine LEO tanker missions would be required to land a 226.8t payload on the lunar surface and return the vehicle to Earth with 22.68t of cargo. With seven tanker flights, the lunar payload capability would be 45.359t plus 4.536t of return payload. After ROMBUS had landed on the Moon, its LH2 tanks (now empty) could be transformed into habitation modules for a moonbase. Each 7-tanker mission would leave two fuel tanks behind while the 9-tanker flights would leave four tanks. ROMBUS would have to carry more LH2 coolant (+5,670kg) to survive the high-velocity atmospheric reentry. But this difference would still be far smaller than the 313t of propellant required to propulsively cancel the 3,048m/s difference between reentry from lunar transfer orbit and reentry from low Earth orbit.
The Douglas engineers did not expect the thermodynamics to cause significant problems, although they did note that the point of maximum heating on the ROMBUS plug-nozzle underside was different during lunar return: some additional LH2 might be diverted by suitable valving to cope with this problem. The underside of the vehicle would also have to be beefed up to cope with the additional dynamic pressure during reentry from lunar transfer orbit. Bono's Project Selena called for the establishment of a 1000-man lunar colony in four successive phases by 1984. The main purpose of the Selena base was to support three unmanned Mars cargo delivery missions by 1986 and about half of the payloads (16,029t by mass) would be dedicated to the "Deimos" Mars follow-on. The total mass of the lunar cargo was a staggering 32,950 metric tons, requiring 1341 ROMBUS launches and 1011 cargo/propellant transfer operations in low Earth orbit over 8.5 years. A fleet of 10-15 ROMBUS vehicles would have to perform 330 lunar landing missions to deliver the crews, cargo and propellant. The fourth, manned, Project Deimos mission then departed from Earth orbit in 1986.
Bono listed the following design assumptions for Project Selena:
40-flight average ROMBUS lifetime.
Personnel delivered to Moon at 90.7kg/man
Life support requirement of 4,536g/man/day
Maximum lunar tour of duty of 4 months
Lunar refueling base would store liquid oxygen and hydrogen propellants for Mars mission
Cryogenic propellant stored in cylindrical tanks at permanently shadowed location on Moon
Reusable Moon-Mars orbit-Earth vehicle landed 21,772kg on Mars (18,143kg useful payload) and consumed 5,343t of propellants per trip.
| | | | | | |
| --- | --- | --- | --- | --- | --- |
| DATE | | TYPE VEHICLE | TOTAL EARTH LAUNCHES REQUIRED | LUNAR PAYLOAD DELIVERED(t) | COMMENTS |
| | 08/1975 | 1-ROMBUS,2 RENDEZVOUS | 3 | 5 | |
| 08/1975- | 12/1975 | 1-ROMBUS,7 RENDEZVOUS | 40 | 224 | 25-MAN SURFACE RECON. |
| 01/1976- | 12/1976 | 1-ROMBUS,7 RENDEZVOUS | 96 | 544 | TEMPORARY 25-MAN BASE ESTABLISHED |
| 01/1977- | 02/1978 | 1-ROMBUS,7 RENDEZVOUS | 112 | 635 | ESTABLISH PERMANENT 25-MAN BASE |
| 03/1978- | 11/1978 | 2-ROMBUS,7 RENDEZVOUS | 144 | 816 | |
| 12/1978- | 08/1979 | 3-ROMBUS,7 RENDEZVOUS | 216 | 1225 | |
| 06/1979- | 01/1981 | (1)-3 STAGE EXP. ROMBUS | 20 | 1742 | |
| 09/1979- | 01/1981 | 1-ROMBUS,9 RENDEZVOUS | 170 | 3856 | PERMANENT 1000 MAN BASE ESTABLISHED |
| 02/1981- | 01/1984 | 1-ROMBUS,9 RENDEZVOUS | 360 | 8165 | |
| 02/1981- | 01/1984 | (5)-3 STAGE EXP. ROMBUS | 180 | 15740 | ESTABLISH 1000-MAN REFUELING BASE |
| | | TOTAL: | 1341 | 32950 | |
More... - Chronology...
---
---
---
Associated Countries
---
See also
Lunar Bases The Lunar Base never seemed to be a high priority to space visionaries, who were mainly interested in getting on to Mars. It was usually seen as a proving ground for Mars vehicle technology, or as a place to mine propellant for use in a larger space infrastructure. More...
---
Associated Launch Vehicles
---
Associated Manufacturers and Agencies
---
Bibliography
Bono, Woodworth & Ursini, "Reusable Booster for Logistics and Planetary Exploration", IAF XVth International Astronautical Congress Proceedings, 1964/p.547.
"All-Purpose Moon Vehicle", Space World, 1964/December/p.16.
---
Home - Browse - Contact
© / Conditions for Use
---