---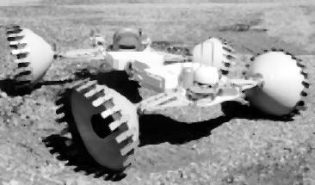 Lunar Sortie Vehicle
Credit: NASA
American manned lunar rover. Study 1971. The Lunar Sortie Vehicle (LSV), was a North American Rockwell design of 1971, conceived as a railroad train without the rails.
The LSV consisted of three pressurized units and several unpressurized power, utility/equipment trailers
One pressurized unit served as the locomotive at the front of the caravan. The pressurized units were typical cylindrical pressure vessels with spherical end caps. A Mobile Power Unit, one of the unpressurized units in the middle of the train, used a large radiothermal generator using plutonium or other isotopes to generate 3.5 kW of power. The front pressurized unit contained six wheels and served to propel the train. A crew of 6 could be accommodated for a total mission length of 90 days.
Characteristics
Crew Size: 6. Electric System: 3.50 average kW.
AKA: Lunar Sortie Vehicle.

More... - Chronology...
---
---
---
Associated Countries
---
See also
Lunar Rovers Lunar rovers were studied in a dizzying variety of sizes and shapes by NASA in the 1960's - including crawlers, trains, hoppers, and even worms. Two rovers designed for manned use actually traveled the lunar surface in the 1970's - the American two-man Lunar Rover, and the Soviet Lunokhod, which traveled the moon in robotic mode but was originally designed as emergency cosmonaut transportation. More...
---
Associated Manufacturers and Agencies
North American American manufacturer of rockets, spacecraft, and rocket engines. North American, Palmdale, El Segundo. Downey, CA, USA More...
---
Bibliography
Zakrajsek, James J; McKissock, David B; Woytach, Jeffrey M; Zakrajsek, June F; Oswald, Fred B; McEntire, Kelly J; Hill, Gerald M; Abel, P; Exploration Rover Concepts and Development Challenges, NASA/TM-2005-213555 / AIAA-2005-2525, March 2005.
---
Home - Browse - Contact
© / Conditions for Use
---