---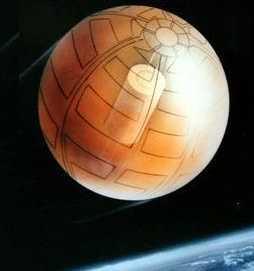 ITV
American military anti-satellite system target satellite. 4 launches, 1985.12.13 (USA 13) to (ITV 1 Balloon). Instrumented Target Vehicle - a satellite balloon target for tests of the American F-15 launched ASAT anti-satellite missile.
The Instrumented Target Vehicle was a relatively sophisticated active satellite. Battery powered, the balloon satellite remained inert and uninflated in orbital storage until the inflation command was transmitted to it. This would only come minutes before the intercept test, and was given as the satellite passed over a Hawaiian ground station. This would set the target up for an intercept over the California coast by an ASAT launched by an F-15A from Edwards AFB.
The ITV was inflated by a hydrazine monopropellant / rheuthenium catalyst gas generator. This was calculated to inflate, heat and maintain the Kevlar balloon at the desired infrared signature required for the ASAT homing vehicle's sensor.
Data from a variety of sensors on the external surface of the balloon were telemetered back to ground stations. The few frames of data that would be received between inflation and intercept allowed the balloon's infrared signature and the geometry of the impact by the interceptor to be determined.
Temperature sensors were embedded in the Kevlar surface at various points. Magnetometers allowed determination of the attitude of the ITV. A grid of break-wires on the surface allowed the location of any impact to be determined.
An omni directional low-power continuous wave radar Miss Distance Indicator sent back data in case the hit-to-kill interceptor did not impact the target. This allowed misses out to around 30 m to be determined; misses beyond that range could be analyzed by post-test radar data.
First Launch: 1985.12.13.
Number: 4 .

More... - Chronology...
---
---
---
Associated Countries
---
See also
---
Associated Launch Vehicles
---
Associated Manufacturers and Agencies
---
Bibliography
---
Associated Launch Sites
---
ITV Chronology
---
1985 December 13 -
. 02:35 GMT - .
Launch Site
:
Wallops Island
.
Launch Complex
:
Wallops Island LA3A
.
LV Family
:
Scout
.
Launch Vehicle
:
Scout G
.
LV Configuration
: Scout G-1 S207C.
---
Home - Browse - Contact
© / Conditions for Use
---