---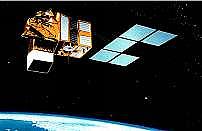 Helios 2
Credit: ESA
French military surveillance satellite. One launch, 2004.12.18. French military surveillance satellite series which began service in 2004.
Helios II comprised two four-metric ton satellites, Helios IIA and IIB, which were to deliver improved performance relative to their Helios I predecessors (in terms of resolution capability, number of images they can take, and night sight), and an enhanced user ground segment.
The Helios program was Europe's military optical reconnaissance system consisting of both a space and a ground segment, which commenced service in 1995, jointly funded by the French, Italian and Spanish governments. The Helios I optical observation satellites, launched in July 1995 and December 1999 respectively, could acquire high resolution images of any point on the globe, with daily revisit capability. The new Helios II system was to be able to process data from both the Helios I and the Helios II satellites, while remaining open to future space-based intelligence systems. The French Ministry of Defense procurement agency DGA ran the program, retained direct control over the management of the ground segment, and delegated the space segment responsibility to the French space agency CNES.
For the first and second generations of the Helios program, the French Ministry of Defense procurement agency DGA and the French national space agency CNES selected EADS Astrium as prime contractor for the satellites - constructing and integrating the satellite bus and payload, supplying the attitude and orbit control system and developing the flight software and electrical ground support equipment - as well as for the user ground segments, requiring the development of a more ambitious, open-ended second-generation system compatible with both Helios I and II satellites.
First Launch: 2004.12.18.
Number: 1 .

More... - Chronology...
---
---
---
Associated Countries
---
See also
---
Associated Launch Vehicles
---
Associated Manufacturers and Agencies
---
Bibliography
---
Associated Launch Sites
---
Helios 2 Chronology
---
2004 December 18 -
. 16:26 GMT - .
Launch Site
:
Kourou
.
Launch Complex
:
Kourou ELA3
.
LV Family
:
Ariane 5
.
Launch Vehicle
:
Ariane 5Gp
.
LV Configuration
: Ariane 5G+ V165 (520).
---
Home - Browse - Contact
© / Conditions for Use
---